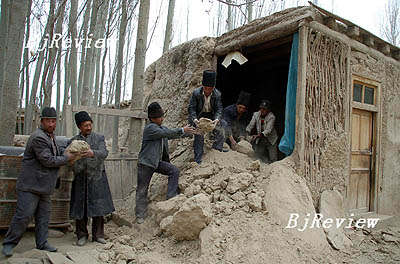 An earthquake on March 21 measuring 7.3 on the Richter scale forced the relocation of 144 families in a village in Yutian County, Xinjiang Uygur Autonomous Region, to safe places, according to Xinhua News Agency.
The first and strongest jolt occurred at 6:33 a.m. that morning. Then four aftershocks, measuring between 5.2 and 5 on the Richter scale, followed between 7 a.m. and 8 a.m., according to the Chinese Seismological Bureau. The four aftershocks rocked a largely uninhabited area.
The local government confirmed there were no casualties from the quake. The epicenter was in an area on Kunlun Shan Mountains with an average altitude of 5,500 meters.
Pulu Village, the remotest village in Yutian that was 80 km away from the epicenter, was the only inhabited place affected, with four houses collapsed and others damaged. The elementary school in the village has been closed.
The other 304 families in the village, who had moved to quakeproof houses built by the local government before the quake, were not affected, reported Xinhua.
The Xinjiang Earthquake Bureau estimated on March 31 that the quake affected more than 60,000 local people and resulted in a direct economic loss of 194 million yuan ($28 million). The quakeproof houses proved to work well saving 95 million yuan ($13.6 million) in losses.
Xinjiang is a seismically active region. The last major earthquake to shake Xinjiang took place in February 2003, when a 6.4-magnitude tremor struck 105 km east of Kashi in the Tarim Basin, leaving at least 261 people dead.
China's deadliest earthquake in modern history struck the northern city of Tangshan on July 28, 1976, killing some 240,000 people. Its magnitude was measured at 7.8 to 8.2.
Xinjiang has been building quakeproof houses across the autonomous region. Hotan in south Xinjiang, for example, had built 257,000 quakeproof houses as of September 2007. More than 12 million people have moved into the houses.
Chinese earthquake experts said that the major quakes over the past 100 years showed that the Asia-Europe tectonic plate and Indian plate are moving actively.
Earthquake monitoring has a history of just 100 years, so despite advances it still takes time for scientists to fully understand and predict crust movements, experts said.