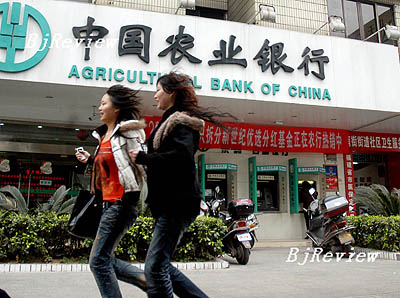 The Agricultural Bank of China (ABC) formed a new internal committee on March 24 to promote financial work relevant to farmers, agriculture and rural areas. It was the latest move the state-owned bank has undertaken to complete the financial restructuring part of its program to transform it from a government-run bank to a publicly listed shareholding business.
"It is a landmark move for ABC's shareholding reform, symbolizing a new step in ABC reform," said Xiang Junbo, President of ABC, in a news release issued when the committee was formed.
ABC is the last of China's "big four" state-owned commercial banks to undergo a complete overhaul in preparation for a listing on the Shanghai Stock Exchange. The other three-the Industrial and Commercial Bank of China (ICBC), Bank of China (BOC) and China Construction Bank (CCB)-already have finished restructuring and are listed on the exchange. ABC has not set a deadline for the completion of its restructuring.
In terms of assets, ABC ranks third among the country's four largest commercial banks. It had 5.35 trillion yuan ($770 billion) in assets at the end of 2006, the most recent figure available. By comparison, ICBC's total assets were 7.5 trillion yuan ($1.07 trillion) at the end of 2006, CCB's were 5.45 trillion yuan ($779 billion) and BOC's were 5.3 trillion yuan ($757 billion).
Four steps
When ABC completes its restructuring, it will become a publicly listed shareholding company. To fulfill this goal, the bank has undertaken a four-step approach, including financial restructuring, shareholding reform, introduction of strategic investors and a listing on the Shanghai Stock Exchange in due course. The Ministry of Treasury and Central Huijin Investment Co. Ltd. plan to inject capital into ABC after it completes its financial restructuring.
ABC started its financial restructuring in 2007. So far, the bank has differentiated the qualities of its loan and non-loan assets, separated its agriculture-related loans and dealt with non-performing loans.
"The goal of the financial reshuffling is to make ABC qualified for a public listing, which is also the foundation of all reforms," said a consultant working on ABC's shareholding reform program. "That's why the ABC and the government are extremely concerned about the reshuffling."
The bank's financial restructuring is approaching a decisive stage. After a careful investigation of ABC's assets, relevant government departments made three proposals to dispose of its non-performing loans, but they have not yet reached an agreement.
ABC started its shareholding reform program in 2007, when it examined how to set up a new management structure as a legal entity and a supervision plan. It set up a special office to work on shareholding reform. In the meantime, it also has formed various professional working teams to oversee human resource relocation, external audits, legal affairs, non-performing loan disposal and the introduction of strategic investors. So far, the teams have been working smoothly on ABC's reform plan.
ABC also designed a detailed internal plan to reform 12 different fields from accounting to risk control. The new committee that oversees financial work relevant to farmers, agriculture and rural areas is also an important link in this process. It will serve as an inseparable and important part of ABC when the bank is listed in the future.
Left behind
As part of China's agreement to join the World Trade Organization, the country had to open its financial market to international competition at the end of 2006. All state-owned financial institutions must be restructured as shareholding companies to compete in the international market. According to the Chinese Government's agenda, China Development Bank, one of the country's three policy banks that raises funds for large infrastructure projects, will also start a shareholding reform program this year. In addition, more than 200 local state-owned banks need to begin similar programs.
As for ABC, its shareholding reform has not been as easy as that of the other three largest commercial banks and is taking longer. It remains the only one that has yet to complete its reform and be listed on the Shanghai Stock Exchange since the government first undertook bank reform measures in 2002.
ABC also has difficulties that the other three formerly state-owned commercial banks did not have. It is a commercial bank, but it shoulders a public welfare responsibility to support agricultural development. For ABC, the biggest obstacle is striking a balance between commercial operations and supporting agriculture-related businesses.
Wang Songqi, a researcher at the Institute of Finance and Banking at the Chinese Academy of Social Sciences, cited several reasons why ABC has lagged behind the other banks. ABC has the largest number of employees among the four banks with more than 450,000, he said. It also has the largest number of outlets with more than 24,000, the heaviest burden and the most complicated operations. ABC has shouldered the responsibility of providing policy-oriented financial services to agriculture-related sectors and enterprises that sometimes cannot generate profits and default on their loans, Wang said.
Furthermore, the overall number of clients who qualify for loans at ABC is not as high as that at the other three largest commercial banks, because the majority are farming households and small farming enterprises, who lack collateral. This means that ABC lags behind its peers in terms of operational efficiency, Wang said.
For a long time, the government has tended to combine ABC's reform with the reform of the whole rural financial system and taken both of them into consideration when making ABC's reform proposals, Wang said. Since the rural financial system reform is still in embryo, ABC has been left behind while reforms were carried out at the other three banks, he added.
Although ABC started its shareholding reform in 2007, it would take several years before it could be listed on the Shanghai Stock Exchange, Wang said. The three listed former state-run commercial banks took three years to complete their shareholding reforms. If ABC needs the same amount of time, the earliest possible date for its listing would be in 2010, he said.
Wang also said ABC's overall reform program would be much more costlier than that of ICBC, CCB and BOC. ABC's reform would be the biggest adventure in Chinese banking history, he said.
Big plans
In early March, Xiang Junbo told the media on the sidelines of this year's session of the National People's Congress (NPC) that ABC planned to become an integrated bank providing high quality financial services to the widest range of clients. It would strive to serve farmers, agriculture and rural areas, connect rural and urban areas, integrate into the global financial market and develop a comprehensive operation, he said.
Despite all the obstacles, Xiang said that he remains optimistic about ABC's restructuring and that his bank has several comparative advantages over the others. ABC is the only "big four" bank whose network extends to every township and prefecture in China, he said. This was once considered a burden for ABC, but now it has turned out to be an incredible asset, because no others have this advantage, he said.
Xiang also said ABC could make full use of its vast network by developing financial businesses in cities like other commercial banks, as well as rural financial services for farmers and other agriculture-related sectors. Other banks seldom have networks in townships, he added.
At present, ABC has the biggest e-banking network and the largest number of clients. It has more than 400 million individual deposit accounts and more than 600,000 legal entity loan clients.
As for international financial institutions, ABC's shareholding reform could provide them with a rare opportunity to delve into the Chinese market.
According to ABC's restructuring plan, the Ministry of Treasury and China Investment Corp., the country's sovereign wealth fund, will inject capital into the bank and serve as state shareholders after ABC completes it financial reshuffle. The two have not indicated how much money they plan to invest. In the meantime, strategic investors will be introduced into the bank.
Foreign capital has already showed its enormous interest in the mainland's rural markets. Since China opened up its rural financial market to foreign investment at the end of 2006, HSBC Holdings plc became the first transnational bank to enter the country's rural areas. It is the only bank to have done so. It first started providing financing services to agriculture-related companies in Suizhou in Hubei Province and has spread from there to other rural areas. Standard Chartered (China) Co. Ltd. launched a pilot program earlier this year to provide small-credit loans to farmers in Akesu Prefecture in the Xinjiang Uygur Autonomous Region.
Encouraging qualified overseas strategic investors to participate in domestic bank restructuring has become a regular policy for bank reformers. There are no obstacles preventing foreign entities from investing capital in ABC. Foreign investors can hold up to a 20-percent stake in a single Chinese bank. Their voting shares will be capped at 25 percent, according to a draft rule issued in late March by the China Banking Regulatory Commission, the country's banking authority.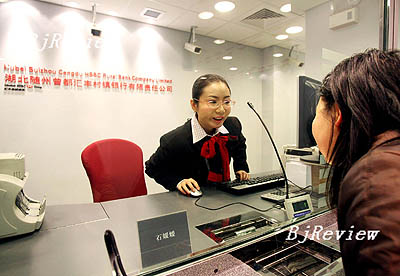 ABC wants to introduce strategic investors to improve its management operations, risk control methods, share research and development on new financial products and networks in a bid to boost the bank's market value and competitiveness and to insure returns for investors, Xiang said at the NPC session in March. But the ABC will be able to take on strategic investors only after it becomes a shareholding company, he added.
According to Xiang, ABC has relatively high standards for picking strategic investors. They must be top-notch international investment institutions with high credit and continuous profitability over the past few years. They also must forge a close strategic partnership with ABC instead of simply investing capital or engaging in speculation.
Figures of the Agricultural Bank of China
(As of the end of 2006)
Mainland outlets: 24,937
Employees: 452,464
Individual deposit accounts: over 400 million
Legal entity loan clients: over 600,000
Source: www.abchina.com