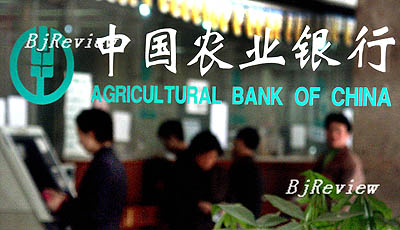 The Agricultural Bank of China (ABC) is sailing through rough seas as it weathers the storm of problems uncovered during its current stage of reform. With non-performing assets making up nearly 97 percent of the total of China's four large state-owned commercial banks, alarm bells are going off in ABC halls of power.
Yi Xianrong, a researcher with the Financial Research Institute under the Chinese Academy of Social Sciences, has been following the changes taking place at the ABC, the last of the "big four" to reform.
"What pressurizes ABC now includes a huge sum of non-performing loans and too much staff," said Yi. According to data released by the ABC, by the end of 2007, the bank had added over 84 billion yuan ($12 billion) to an outstanding balance of non-performing loans of around 816.1 billion yuan ($116.6 billion). Its ratio of non-performing loans stood at 23.64 percent, 0.08 percent higher than that at the beginning of the year. In defiance of a stringent clampdown, the non-performing assets are still increasing.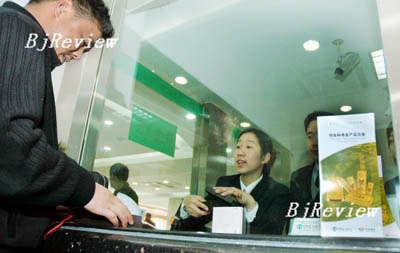 Some relief has come via a $40 billion-injection from the Central Huijin Investment Co. Ltd., a subsidiary of China Investment Corp. in August 2007. But obviously this still falls way short of the huge hole that needs plugging.
Bloated staff contingent
"Overstaffing also poses a headache for the bank's decision-makers," said Yi.
At the end of 2007, ABC had 452,400 employees. By comparison, the Industrial and Commercial Bank of China, China Construction Bank and Bank of China reported 351,000, 298,000 and 233,000 employees, respectively. According to Yi, ABC is eclipsed by its three counterparts in terms of per-capita managed assets, which adds to its operation costs.
Focus on farmers
When taking over the helm of ABC in 2006, outspoken ABC President Xiang Junbo consistently pointed out that commercial operations of the bank should be integrated with services toward farmers, agriculture and rural areas, which holds the key to the success of the reform.
However, no stride has been made on how to compromise the bank's commercial business with its policy decisions. The newly established Promotion Commission of Financial Work for Farmers, Agriculture and Rural Areas has launched pilot reform projects in eight provinces and municipalities. Although ABC's relevant experiences were enriched through these projects, the reform still needs further improvement.
Yi said that the Central Government has positioned ABC as the helping hand for county-level economies and agriculture. As a result, when funds are accrued by the bank, the impact of its policy functions are not felt as sharply. But if deficits occur, it's difficult to find who will be held responsible. Given that, ABC will no doubt blame losses on its policy-related businesses and give credit to commercial businesses for profits.
"Currently, the reform orientation calls for an explicit definition, through an organization or a system," said Yi.
He further stressed parting ways with traditional conceptions of facilitating agriculture.
"It has become imperative to come up with a financial system or model in line with new rural economies to optimize the rural financial environment. That is the key point of the reform," said Yi.
In other words, he said, the reform does not mean to magnify rural responsibilities of the bank, but rather to breed businesses in compliance with its financial characteristics.
"For example, its network advantage should be leveraged to focus on the country's changed rural economies," said Yi.
He explained that nearly 30 years of reform and opening up have brought dramatic changes in China's rural economies. For instance, developed areas have seen urbanization; agriculture industrialization has taken place in eastern and central regions; a large number of rural laborers from central and western regions have migrated to cities, leaving a small number engaged in agricultural production; and poverty-stricken areas still maintain traditional agricultural operation. This is the reason why the reform of ABC should be aligned to the reality of the rural economy, said Yi, adding that as the bank has no blueprint to copy in this regard, it needs to blaze its own path.
Guided by the market
What matters at present to the reform is how to split the monopoly of state-owned funds. But a protracted process of restructuring is needed to consolidate effective management within the bank.
Yi cited improvement of financial environment in rural areas as a factor that can help with the reform. Apart from improving the current irrational financial system, he said, efforts are needed in the following aspects:
First, the way should be cleared for migration of farmers into the cities so as to trim the rural population.
Second, the land-use right and the right to profit from the land of farmers need legal definition. Through these means, the farmers will be endowed with the collateral to borrow from banks and the security for their own well-being during urbanization.
Third, farmers' legal rights must be safeguarded against discrimination during migration, especially for the education of migrant children.
Fourth, essential conditions must be created to allow for the influx of farmers into cities in greater numbers.
According to Yi, China's financial institutions logged up outstanding balance of loans of 22.5 trillion yuan ($3.2 trillion) in 2006. Of that amount, agricultural loans stood at 1.32 trillion yuan ($188.6 billion), making up 5.6 percent of the total, which had remained unchanged for years. Besides, the added value of agriculture accounts for 11.8 percent of China's GDP. If the basic rural system remains unchanged and the ABC is still restricted to agricultural services, it would find it hard to come up with a profit-making model conducive to its own development.