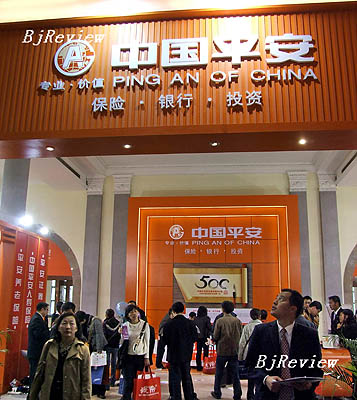 Ping An Insurance (Group) Co. of China Ltd., a major Chinese insurer, jointly declared on April 2 with Fortis that the two parties had signed a final agreement on establishing a global assets management partnership. According to the agreement, Ping An will acquire a 50-percent equity stake in Fortis' assets management unit, Fortis Investments, for 2.15 billion euros (about 24.02 billion yuan), payable in cash against completion of the transaction. This is the first overseas investment project for Ping An since it got into hot water over its massive refinancing scheme in January.
With a history of more than 200 years, Fortis ranks among Europe's top 15 financial institutions. With a professional workforce of 65,000, the company's presence covers over 50 countries worldwide. As the autonomous global asset management arm of the Fortis group, Fortis Investments is a multi-center, multi-product global asset management company that manages assets of 245 billion euros and has sales networks and professional investment centers in Europe, the United States and Asia.
Though younger, the 20-year-old Ping An is of the same excellence. It is a large financial group with 350,000 employees, more than 100 billion yuan ($14.29 billion) in premium revenues and over 700 billion yuan ($100 billion) in total assets.
On November 27, 2007, Ping An Life Insurance Co. of China Ltd. under Ping An Group bought 95.01 million shares of Fortis for 1.81 billion euros. The purchase, through the stock market, made Ping An the largest shareholder of Fortis. The two parties have held discussions since then on potential cooperation, and the business of assets investment is a set priority.
The finalized agreement indicates that Ping An will share the business networks of Fortis Investments in over 30 countries, including those in both mature markets like Europe and the United States, and those in emerging markets such as India and Russia. Ma Mingzhe, CEO of Ping An, said that by taking this opportunity, Ping An hopes to establish its global asset management platform rapidly and extend its businesses to various major world financial markets by utilizing the competitive distributing networks of both parties. The business of asset management will soon become the new profit growth point for Ping An and its investment in Fortis Investments will further enhance its core competitiveness in wealth management.
To the partner of Ping An, the benefit is also clear. Jean-Paul Votron, CEO of Fortis Group, said that after integrating most of the asset management business of ABN AMRO, Fortis Investments and Ping An are able to jointly create a worldwide platform, which is a good opportunity to speed up growth of the asset management business, especially in China and other Asian markets witnessing rapid development. "The strength of our combined geographic presence and shared expertise represents the ideal platform from which to grow in both Europe and Asia," said Votron.
"There are few successful cases worldwide for companies starting from insurance business to develop comprehensive financial businesses," said Qiu Zhicheng, financial analyst of Haitong Securities Co. Ltd. "Most of the comprehensive financial service platform providers are extending their business from banking services to insurance business, and it is rare like Ping An who directly purchases financial investment companies."
In fact, the blueprint that Ping An draws for a future financial kingdom is not visible now, but the present situation is not optimistic. Owing to market worries of a potential economic recession in the United States, the global stock market has seen large decline recently, especially in financial stocks. Fortis cannot escape from the disaster. After Ping An became the major shareholder of Fortis last November, prices of Fortis stocks kept decreasing, leading to huge floating losses. By April 3, although prices of Fortis stocks had upturned to 16.13 euros, Ping An still had floating losses of about 278 million euros for the funds it had first input.