With some SMS cards, a PC, a bunch of mobile phone numbers and a bulk SMS sender capable of zapping 600 messages per minute on average, just about anyone can access the country's 565 million mobile subscribers and in some cases make a fortune. One hour of spamming will generate 720 yuan, or more than $100, if they make 0.02 yuan from every message sent, according to the Nanfang Weekend report. Supposing they work eight hours a day, they would pocket $800.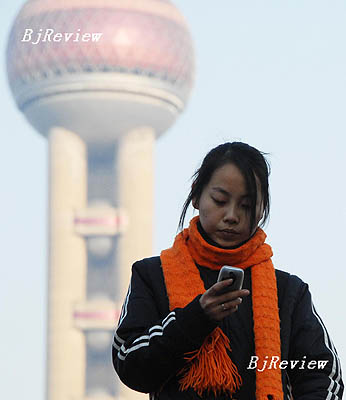 Spammers, or those who send junk e-mails or messages for everything from product advertisements to swindles to pornographic jokes using phone numbers, cannot be traced. Mobile advertisers, as some of companies that send commercial messages call themselves, categorize phone numbers in order to better target clients. Focus Wireless, for example, has sorted mobile phone subscribers' names on its database into nine categories, including apartment residents, company owners, car owners, public servants and real estate investors, according to a CCTV report. Using its powerful database, the company can send advertisements to targeted groups for more than 200,000 clients. The mobile advertising revenue of Focus Wireless in the first three quarters of 2007 was $6 million, $10.9 million, and $14 million respectively, according to the CCTV report.
CCTV's report said Focus Wireless has been able to access the personal information of half of China's mobile phone users, including their car license plate numbers, landline phone numbers and addresses. Jiang Nanchun said Focus Wireless got this information by collecting it from websites. CCTV's report said the company's comments about the precision and detail of its database categorization have raised questions about whether it has bought personal user data from restaurants, hotels and shopping centers when customers register for a membership to receive discounts or better services.
Offensive marketing
When text messaging fraud was rampant in 2006, China Mobile's Zhuhai branch in Guangdong Province, cancelled the service of 19,000 mobile phone subscribers who were found to have abused the messaging service.
Many mobile phone subscribers have been giving up their numbers in frustration and purchasing new ones in hopes that spammers will not be able to obtain them. Yolanda Dai, a senior consultant who works at a human resource multinational, subscribed to China Mobile's "Go Tone" service a year ago and is contemplating changing her phone number again, because she receives too much spam.
"Should China Mobile be responsible for the personal information leakage?" Dai said. "I've been cautious enough to protect my new number, and I still receive at least five junk messages a week at present."
Dai is lucky compared to Chen Shifeng, an anti-spamming expert who runs his own Internet security company. Chen has used the same mobile number since 2002 and receives almost 80 spam messages a week.
Effective measures
Under the pressure of the public uproar over text message spamming, both operators and regulators said they are working on identifying and blocking spam messages and beefing up technology to monitor junk commercials. The Ministry of Industry and Information required China Mobile and China Unicom to get message spamming under control by requiring prepaid users to register for text message services and implementing feedback loops that allow consumers to easily report junk messages via their handsets. The two mobile operators also have put in place a system to let mobile users forward suspected spam to an SMS short code. They also have set up hotlines for consumer complaints.
Jamie de Guerre, Chief Technology Officer of messaging security firm Cloudmark, Inc., told the publication Telecom Asia that mobile operators in Asia should implement spam filtering in their SMS gateways as a "more proactive move" to cut down text message spamming. Because mobile spam is on the rise, it could cause cell phone subscribers not only to switch service providers, but also to "distrust the mobile advertising campaigns that many operators are banking on for new service revenue streams."
A China Mobile spokesman who declined to be named said it was difficult for the company to decide what to filter. The messages that offer users channels for getting to know more friends, for example, are regarded as useful by some receivers, while they annoy others, he said.