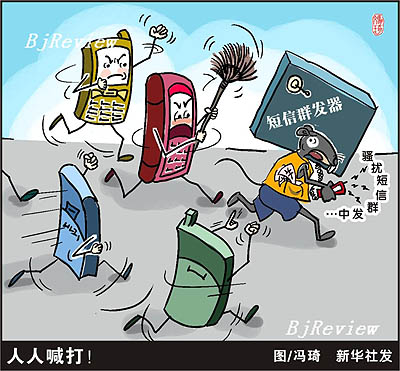 What can you do when a text message wakes you up at 3 a.m. and tells you where to buy illegal vehicles, weapons or fake diplomas? Call back to complain? But no one answers, and a voice message says the number has been discontinued. Smash your phone? That's not a realistic option for most rational people.
But many mobile phone subscribers have been encountering this scenario more and more frequently. The average subscriber receives about eight spam text messages a week in China, according to a 2006 survey conducted by the Beijing-based Internet Society of China. The organization, which seeks to promote the healthy development of the Internet here, estimates the number of received spam text messages to double this year.
Spammers can access the Short Message Service (SMS) inboxes of China's 565 million mobile phone subscribers at low costs. They only have to connect a prepaid SIM card to a PC and anonymously send unsolicited commercial messages en masse to try to make huge profits.
A recent investigation of seven wireless value-added service providers by China Central Television (CCTV) sparked new outcry for blocking junk messages and punishing spammers through technological and legislative efforts from both the operators and the regulators.
The report, which aired on the World Consumer Rights Day on March 15, said 80 percent of all commercial messages had been sent by the major advertiser, Focus Wireless Media Technology Co. Ltd., a subsidiary of U.S.-listed Focus Media Holding Ltd., through China's two main mobile phone companies, China Mobile Ltd. and its smaller rival, China Unicom Ltd. CCTV reported that Focus Wireless had a huge information database of 200 million subscribers, which was separated into detailed categories. The company's Zhengzhou subsidiary alone sent out 200 million messages every day, according to the report.
The public outcry prompted apologies from Focus Media's parent company and China Mobile on March 19. Jiang Nanchun, Focus Media's Chairman, apologized for the junk messages and instructed the company's subsidiaries to stop their marketing efforts. On the same day, China Mobile blocked the messaging service gateways of the seven companies.
Although there is no law that defines SMS spamming and regulates it in China, the government has proposed a new regulation to address the issue. In cooperation with the State Council Information Office and the Ministry of Public Security, the newly formed Ministry of Industry and Information has drafted a regulation to better supervise and standardize the SMS market. The proposed regulation, which now is being circulated among related government offices and experts for comment, will be publicly issued in a few weeks. But observers say the key to the problem lies in monitoring underground mass message senders and a law that bans the trade of personal information such as mobile phone numbers.
Spamming for profit
The nuisance of a cluttered SMS inbox and the annoyance of being woken up early in the morning make the offended wonder why there are so many spam messages and where they come from. In general, there are three sources of junk messages-service providers, operators' clients in various industries and unfamiliar phone numbers. The first two are recognizable, because their numbers always begin with "106," indicating they are from gateways provided by operators. They are easy to track and block. But the third kind, called "terminal-to-terminal" messaging, is regarded as the most difficult to monitor and stop.
SMS spamming is not as cost-prohibitive as it used to be, because the popularity of SMS messaging has prompted a dramatic drop in messaging charges. China Unicom, for instance, offers the cheapest monthly card at 15 yuan ($2.14) a month for 3,000 intranet messages. This works out to $0.04 per message.
But mobile phone users can buy SMS cards here for even less. The special prepaid SIM card supports only text messaging services. A card that costs 100 yuan ($14) can send 5,000 messages at a cost of about $0.03 per message. A report issued by Nanfang Weekend a couple of years ago said that only people who had "special connections inside China Unicom" could "lay their hands on these types of cards."