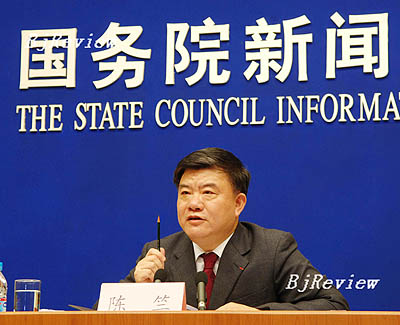 The Minister of Health Chen Zhu, whose nomination was approved in June 2007, is China's first cabinet appointment of a person without party affiliation since the late 1970s. Since his appointment the media has chased Chen, both because of his special identity and because health care reform is an issue of wide public concern. Beijing-based Guangming Daily conducted an exclusive interview with Chen recently. Here is an excerpt from the interview published on April 7.
What are the key areas of work on health care set for 2008?
Premier Wen Jiabao specified four key issues on health care in his government work report at this year's annual session of National People's Congress (NPC).
They are to accelerate the establishment of a system to ensure access to medical care for both urban and rural residents; to improve the public health service system; to continue development of the medical service systems for urban and rural areas; and to set up a national system for medicines, ensuring their quality, supply and keeping down their cost.
All the four issues are part of our key work. Premier Wen also emphasized deepening reform of the health care system, releasing guidance on the reform, formulating related policies based on soliciting public opinion and selecting some places to conduct pilot programs. We will also conduct strategic research on the "Healthy China 2020" program and will offer medical support to the Beijing Olympic Games.
Do you think government investment should first subsidize medical institutions or patients?
Government investment will first be used to strengthen the system at the grassroots level, to be exact, the county, township, village three-tier rural health service network and the urban community-based medical and health service system. Meanwhile, government-sponsored basic medical insurance for urban workers, basic medical insurance for urban residents, the new type of rural cooperative medical care system and the urban and rural assistance program will be improved. As for the ratio of financing to medical institutions and patients, it varies under different situations. In places where there is a low insurance coverage rate financial support to medical service suppliers is vital.
What measures will be taken this year to ensure the complete coverage of the new type of rural cooperative medical care system? Do you think the new type of rural cooperative medical care system could be merged with medical insurance for rural residents?
For the time being, the new type of rural cooperative medical care system has realized full coverage in 20 provinces. Some counties or cities of the provinces that fail to carry out this system are divided into groups. Some are poverty-stricken or border areas, which have difficulty in implementing the new system due to geographical, economic and health care capacity limitations. The others are agricultural counties in central areas with a large population, which lacks of financial resources to hand out subsidies.
Health care and finance departments at all levels should increase their guidance and support to areas without the new type of rural cooperative medical care system. Particular policy and financial support should be given to poverty-stricken areas and border areas to ensure the launch of the new system. This year the Ministry of Health is going to organize staff to conduct investigations in some provinces to guarantee the full coverage of the new system.
According to the newly released reshuffle plan of the State Council, the State Food and Drug Administration is now under the administration of the Ministry of Health. What is the intention of this reform?
The reshuffle is intended to unify the supervision system for food and drugs, clarify the responsibilities of different departments and strengthen the safety supervision, which directly concerns people's health and safety. After the government reshuffle, the Ministry of Health will shoulder the new responsibility of comprehensive coordination of food safety and investigation of major food safety incidents. The Ministry of Health will also be in charge of drafting food safety standards, national drug codes and national basic medicine systems while the State Food and Drug Administration will be in charge of food hygiene certification, supervising the safety of food consumed in catering businesses and canteens and supervising scientific research, production, circulation and the use of drugs.