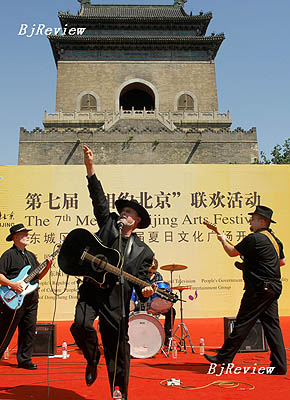 The Drum and Bell Towers in Beijing were the time-keeping center of the city in the three dynasties of Yuan (1279-1368), Ming (1368-1644) and Qing (1644-1911). They are located on the northern end of the north-south axis, which divides the city into two symmetrical parts according to the original city layout. Walking to the north from the back gate of the Forbidden City, tourists first see Jingshan Park and then the Drum and Bell Towers, with the Bell Tower on the north. The Drum and Bell Towers stand 100 meters apart and are respectively 46.7 meters and 49 meters in height.
Drums and bells were first invented as musical instruments in China and then used for announcing time. In the ancient capital of Beijing, the activities of the residents, including the royal families, court officials and commoners, were all ruled by the time-keeping system of the Drum and Bell Towers.
The bell tower, a single-body building of bricks and stones, was first built in 1272 and became the bell tower in 1420. The original building was destroyed by fire and was reconstructed several times. The construction of the current architecture started in 1745, with fireproof material, and was completed two years later. The bell in the tower was cast in the Ming Dynasty and is the heaviest in China. The bell is made of special copper to ensure the sound of the bell travels far.
The Drum Tower is a five-room wooden hall built on a brick platform of 4 meters. It was originally built in 1272 and rebuilt many times after fires and lightening strikes. The latest large-scale repairs were conducted in 1949. There used to be 24 small drums, representing the 24 solar terms in the Chinese calendar, and one big drum made with a whole piece of cow leather on the second floor. Now only the big drum exists, but the drum skin of 1.5 meters in diameter is full of bayonet marks left by the Japanese army that invaded Beijing in 1900.
The tradition of sounding the drum and bell on the eve of Lunar New Year was resumed in the 1990s. The drum and bell towers are no longer the time-keeping center of the city, but the strong and lasting drum and bell sounds can still be heard around the city during the Spring Festival.