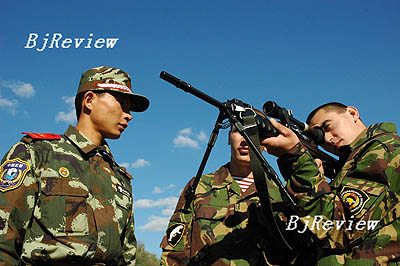 Telephones have been a convenient and efficient means of communicating since they were invented in the late 19th century. Today, governments use military hotlines for instant access to top-level military leaders in other countries in times of crisis. But they also believe hotlines can be used to promote greater communication with and a better understanding of other military leaders.
China has opened military hotlines with some of its neighbors and other large countries to establish stable mutual trust in its military relations. On February 29, it signed an agreement with the United States for a military hotline, but this hotline did not go into effect until April 10. On March 14, the Chinese and Russian defense ministries opened their first direct military hotline.
Both China and Russia stressed the significance of the hotline and said it would enhance their bilateral cooperation. In a statement issued by China's Ministry of National Defense, then Defense Minister Cao Gangchuan said the hotline signaled that the level of political trust and strategic coordination between the two countries had improved. His Russian counterpart, Anatoly Serdyukov, said the hotline was "further evidence" of the high-level strategic partnership between the two countries.
China was able to quickly set up its hotline with the Russian defense ministry, because the two countries have improved their mutual trust, more so than the relations between China and the United States, military experts said.
Teng Jianqun, a researcher at the China Arms Control and Disarmament Association told the Xinhua-based International Herald Leader that the opening of Sino-Russian military hotline did not come about all of a sudden, but because of improved bilateral military trust. The hotline reflects the closeness of the bilateral relationship between the two countries, he said, noting that mutual trust is the basis of all bilateral relations.
Unlike the United States, which has purported a "China threat" theory for the past several years, Russia has never made any similar statements, Teng said in the article. The theory holds that China wants to become a major political, economic and military power to rival the United States and threaten the latter's status as the only world superpower. Despite this, Teng pointed out that the two countries still have similar stances on many issues such as arms control, state security and the UN disarmament negotiations.
Trust is everything
China and Russia have improved their mutual military trust primarily by reducing troops along their border. As early as April 1990, China, Russia, Kazakhstan, Kyrgyzstan and Tajikistan signed agreements to cut their military troops along national borders. In 1992, China and Russia issued a joint statement and agreed to treat each other as friendly states. A year later, their defense ministries signed cooperation agreements. In 1994, China and Russian promised that they would not aim or be the first to use nuclear weapons against each other. They also signed an agreement to strengthen their military mutual trust in boundary areas.
The Shanghai Cooperation Organi-zation's (SCO) joint military rehearsal in 2007 "pushed the Sino-Russian military relationship to a new high," Teng said in the article. During this military exercise called Peace Mission 2007, SCO troops conducted joint anti-terrorism exercises in both China and Russia.
Teng also said that mutual trust between China and the United States is not deep enough, which is why the two countries delayed to start their military hotline. In early March, just after the two countries signed an agreement to open the line, the U.S. Defense Department released the 2008 China Military Power Report. The report repeated the China military threat theory, and the Americans insisted that the Chinese military lacked transparency.
This groundless suspicion has caused both countries to be cautious in their communication with each other, which is evident in the technical negotiations of the hotline, Teng was quoted by the newspaper as saying. Such issues did exist between China and Russia, he said, but they were able to decide them quickly because of their level of mutual trust, which is the basis for all bilateral communication.