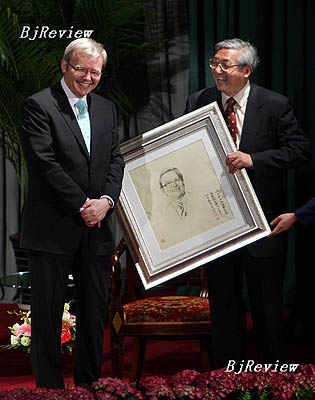 A new chapter was opened in China-Australia relations with Australian Prime Minister Kevin Rudd's visit to China on April 9-12. Even before he was elected, Rudd said he hoped to raise bilateral relations to new highs. He spent four days in China on his first official overseas mission as Australian Prime Minister, discussing with Chinese leaders focal issues such as China-Australia relations, trade and climate change.
In the Rudd era, there will be more positive factors conducive to the development of China-Australia relations. But at the same time, the two countries should properly deal with some problems to ensure the stable and sustained development of their relations.
Engaging China
China-Australia relations are well grounded. Former Australian Prime Minister John Howard laid a solid groundwork for their development with his contributions. The two countries agreed to develop "comprehensive and cooperative ties for mutual benefit in the 21st century." Their relations were further deepened during Chinese President Hu Jintao's visit to Australia last September when they announced that they would establish an annual strategic dialogue mechanism.
Two-way trade between China and Australia hit $43.84 billion last year, more than 500 times the amount of 1972 when the two countries established diplomatic relations. China has surpassed Japan to become Australia's biggest trading partner with their trade volume equaling the trade volume between Australia and the entire African continent.
The Chinese and Australian economies are highly complementary. China mainly imports from Australia iron ore, alumina and wool, while exporting mechanical products, hi-tech products, clothing and textiles.
Rudd, who worked in China as a diplomat in the 1980s, is fond of Chinese culture and personally sees great value in China-Australia relations. His new government is also highly aware of the importance of developing the relations with China. Shortly after he assumed office, the Labor government announced that it would pursue a foreign policy of comprehensive engagement with Asia, underline the importance of upgrading Australia's partnerships with Asia-Pacific countries and value the role of regional organizations such as the Asia-Pacific Economic Cooperation Forum, the Regional Forum of the Association of Southeast Asian Nations and the East Asia Summit.
At the East Asia Forum held in Sydney shortly before the new Australian prime minister started his first foreign tour in late March, Rudd said that foreign policy, foreign economic policy and national security policy must be seen as the "natural expression and extension" of Australia's domestic policy. Australia must increasingly cooperate with other nations to address challenges from abroad, he said.
Cooperation with China is crucial for Rudd's envisioned "creative middle-power diplomacy."Australia sees the emerging country as the most powerful geopolitical force in the Asia-Pacific region. Only with China's participation in regional affairs can its interests be effectively protected. It, therefore, believes that it must enhance cooperation with China bilaterally and multilaterally and in global affairs.
Australia is formulating a 50-year strategy for relations with China, which focuses on enhancing the two countries' economic cooperation, especially in financial services, biological technology and clean energy.
China and Australia share similar positions on many international issues. For example, both China and the Rudd government uphold multilateralism and respect the leading role of the UN in international affairs. These common grounds pave the way for the two countries' cooperation on the multilateral stage. Rudd said that Australia would seek a seat on the UN Security Council in 2013 during his visit to the UN headquarters. To realize the goal is unimaginable without the support of China, a permanent member of the UN Security Council.
The Rudd government does not seek to form a security alliance with Japan or a four-nation ideological alliance with the United States, Japan and India. This policy will help strengthen the mutual trust between China and Australia.
Speaking at the Brookings Institution in Washington on March 31, Rudd said he hoped China would play a bigger role in international affairs. "As a growing power, China should be more than just a passive member of the international order; it should work actively to sustain the system that has enabled its success," he said.
Rudd, who studied in Taiwan when he was young, understands the sensitivity of the Taiwan question. Knowing that "Taiwan independence" means war, he is committed to the one-China policy.
Potential difficulties
A number of issues might adversely affect the development of China-Australia relations in the years to come.
Australia will be more aggressive in trade issues. Apart from raw materials, it will try to sell other products to China. It will also intensify efforts to protect its manufacturing sector, while imposing higher requirements on China in terms of labor and environmental protection standards. The two countries have already found themselves at odds in this regard. For example, the Aluminum Corporation of China tried to block the proposed merger of Australia's largest miners BHP Billiton and Rio Tinto because of concerns about a price monopoly.
China and Australia are currently negotiating a free trade agreement, with the 11th round of negotiations to be held in the first half of 2008 in Beijing. Considering bilateral trade arrangements to be of secondary importance, the ruling Australian Labor Party would not negotiate such arrangements unless Australia's net benefits are guaranteed.
Australia's new government sets great store by human rights, claiming that promoting human rights is central to its foreign policy. Presumably, it will pay more attention to China's human rights record. Although the two countries' human rights dialogue functions well, Australia may still lodge protests against individual cases.
China has greatly improved its human rights situation, but still has a long way to go. Protecting and respecting human rights are part of the Chinese Government's policy of "putting people first" and effort to "build a harmonious society." Despite their different understandings of human rights issues, the two countries' goals are the same. Their differences therefore can be addressed through strengthened consultation and dialogue.
As a new signatory to the Kyoto Protocol, Australia may mount pressure on China to reduce greenhouse gas emissions. It has vowed to use its friendly relations with China and status as China's energy supplier to assist China in formulating strategies to address climate change. It also is considering establishing an Australia-China global climate change committee.
During Hu's visit to Australia last year, the two countries issued a joint statement on climate change and energy, demonstrating their strong resolve to work together on these issues. Energy conservation and the reduction of greenhouse gas emissions are high on the Chinese Government's agenda. On the issue of climate change, China and Australia also share the same goals.
How to deal with the quadrilateral relations between China, the United States, Japan and Australia is a major question for Australia's new government. Before he was elected, Rudd said Australia would be able to play a positive role in future China-U.S. relations with its robust ties with the United States. When conflicts break out between China and the United States, Australia is willing to take every opportunity to help the two countries maintain sound relations, which he believes are the basis for the peace, stability and prosperity in the 21st century.
While security interests dominated Rudd's visit to the United States, he visited China mainly to secure economic benefits. Given Australia's diplomatic traditions, national interests and geopolitical interests, it is understandable that Canberra gives priority to Washington in its diplomatic strategy. A military ally of the United States for the past 57 years, Australia relies on the U.S. support for its strategic interests in the fields of security, economy and science and technology. The ability to make correct, objective decisions is important for Australia to cultivate a positive international image.
Despite the problems and challenges, China-Australia relations today are better than ever. Given the huge potential for their cooperation, the two countries will enjoy promising relations during Rudd's term as long as they make joint efforts to foster harmony politically, seek common development economically, learn from each other culturally and trust and coordinate with each other in the security field.