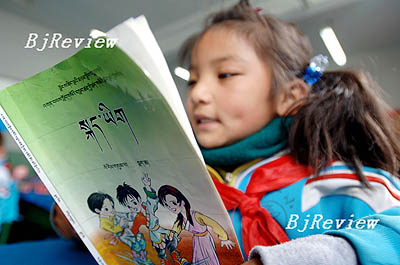 "The riot in Tibet is not only targeted at Han people or other minority ethnic groups in Tibet, but also at local Tibetans. So the riot is not ethnic feud between the Han and Tibetan peoples," said Lian Xiangmin, Director of Research Projects Office, China Tibetology Research Center, at a press briefing on the March 14 riot in Lhasa. The State Council Information Office held the briefing on April 2.
Lian made the above remarks when asked whether the March 14 Lhasa riot is triggered by ethnic conflict. During the press briefing, Lian and three other Tibetology scholars answered questions from reporters. These scholars belong to different ethnic groups. For instance, Lian is from the Tujia ethnic group, and has been studying Tibetology for a long time. Two other scholars are Tibetans, including Zha Luo, Assistant to Director of Institute of Ethnology and Anthropology, Chinese Academy of Social Sciences, and Shes Rab-Nyi Ma, Vice President of the Central University for Nationalities.
Tibetans have lived together with several other ethnic groups in Tibet and the surrounding regions for a long time, said Zha Luo. These ethnic groups complement each other in social and economic life. For instance, Han people are more experienced in grain production while Tibetans are stronger in animal husbandry. There has been no serious conflict in the region.
As to what triggered the violent crimes, Shes Rab-Nyi Ma thought that the riot was not an accident, but an organized and plotted event. The Dalai Lama and his followers have advocated a "high degree of autonomy" for Tibet. They are seeking to change the current basic system of the regional ethnic autonomy and to seek "independence" for Tibet.
The Dalai Lama has also held onto the concept of "greater Tibet area," a proposed area covering not only Tibet Autonomous Region, but also part of Sichuan, Gansu and Qinghai provinces. Historically, there has never been such an administrative region as the "greater Tibet area." Such a practice can only invite hostility, tension and conflict between ethnic groups.
"So far, there is no indication that the Dalai Lama has given up his separatist attempts. Once clad in a nationalistic or religious mantle, the separatist scheme will become a more delicate issue. Chinese Government should realize that it has to fight an arduous, complicated and long-term battle against separatists," suggested Shes Rab-Nyi Ma.
Hu Yan, a professor studying ethnic and religious issues in the Party School of the Central Committee of the Communist Party of China, also shed light on the riot. He pointed out that many lamas did not know the truth, and were instigated by others. "The Chinese Government should provide more legal trainings to monks or lamas, and let them understand that as citizens, they should also obey the law," said Hu.
For a while, some people have worried that social and economic development will have great impact on the local Tibetan culture. This issue was brought up at the press briefing. Shes Rab-Nyi Ma explained that the university where he is teaching recruits students from all 56 nationalities in China, and the students can take lessons in the language and culture of his or her ethnic group. For instance, there is a college for Tibetan studies in his university, where Tibetan students can study Tibetan language and literature.
"I was born into a poor family and grew up in a remote area in Tibet. I have four siblings. We all are college educated, and two of us majored in Tibetan language and culture. I am a counterexample to the allegation that the Tibetan language and culture has been extinct," said Shes Rab-Nyi Ma. He added that more and more Tibetans are benefiting from economic development.
Zha Luo has been studying the social and economic development in Tibet. He spent eight years conducting door-to-door interviews in 120 villages. The study shows that the income structure of Tibetan farmers and herdsmen has changed significantly. He explained that the income of Tibetans in rural area could be broken down into four major categories. The dominant source of income is agriculture and animal husbandry. The second major income source is picking and gathering. Improved transportation has opened a bigger market for Tibetan specialty products such as Chinese caterpillar fungus and pine mushroom, which has boosted the income of local residents. The third major income source is infrastructure construction. The Central Government has invested heavily in infrastructure construction in Tibet, which has provided non-agricultural employment opportunities. Finally, tourism industry has become a backbone industry of Tibet.
"Tibetans have been active in developing the economy, and many have become entrepreneurs. The employment rate of Tibetans varies across industries and occupational ranks. It is incorrect to use such variation as evidence that Tibetans have been marginalized," he said.