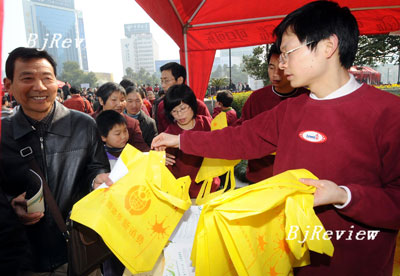 Wang Shumei, a resident of Hangzhou City, Zhejiang Province, goes to Gudang vegetable and poultry market near her house every morning. Recently she began carrying a red cotton bag with her and refuses to use the plastic bags provided by the retailers. "My daughter gave me this bag and it is much easier to carry than the plastic bags," said Wang.
Four years ago Gudang was one of the first markets in China to begin using 100-percent degradable plastic bags. Now it is trying to delete the usage of plastic bags and advocating customers to use cotton bags or bamboo baskets, following a new ban on the free use of plastic bags that was issued recently.
The ban, which was issued by the General Office of the State Council on the production, sale and use of ultra-thin bags (defined as less than 0.025 mm thick), will come into effect on June 1. According to the ban, shoppers at supermarkets, shopping malls and markets across the country will have to pay for plastic bags. The production, sale and use of ultra-thin plastic bags will be outlawed completely.
Poisonous material
"It really is a tough task, but no more difficult than when we advocated the use of degradable plastic bags four years ago, and we finally introduced that," said Jin Chang, Manager of Gudang market, with confidence.
In February 2004, Jin was shocked by a China Central Television program, which showed that some cheap plastic bags are made from used medicinal apparatus and could contain poisonous chemicals. He gathered the retailers from the market in his office and told them about the program. "The bags could be unhealthy for customers and even for yourselves, to stop using the plastic bags will surely be good for your health," he said.
Several days later the market signed a responsibility contract with 185 retailers in the market. According to the contract, all the retailers must use degradable plastic bags. Half a month after that, degradable plastic bags had completely replaced the old non-degradable ones, and the market was listed as a tourist spot for foreign visitors.
"The ban has released a burden for the retailers. The total usage of the plastic bags will be reduced by at least half since they will not be provided free of charge any more," said Jin.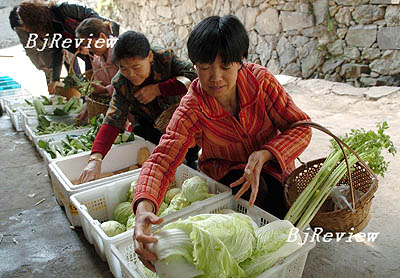 Jin has counted the total number of the plastic bags in this market. The 2,000-square-meter market uses 1.5 million plastic bags every year, and the total price of the plastic bags is around 350,000 yuan ($50,000).
"Besides banning free plastic bags we need to find a material that can replace them, and that neither adds to consumer costs nor does harm to the environment and food safety," said Jin. At the beginning of February, Jin organized the managers of five other markets in Hangzhou to discuss promoting alternative bags in their markets.
Questions posed at the meeting included: What bag would be suitable for soft or strong smelling food? And what if retailers want to provide free plastic bags?
Finally, the managers reached a consensus: to promote cotton bags among the consumers. The design of the bags should meet the practical demands of the consumers, being easy to carry, able to hold a certain weight, and no more than 2 yuan ($0.28).
On February 14, six markets held the first promotion of the cotton bags and many customers bought them.
"When I was a child, my mother always took me to the vegetable market with a bamboo basket. She put a bowl in the basket for holding bean curd. When we bought sugar powder or salt, the sellers would wrap them with a piece of paper. I miss those days very much," Jin said. The main purpose of promoting the bags is to encourage the consumers to reuse the materials, he added. Some old living habits should not be thrown away no matter how fast the economy has developed.
"I don't need plastic bags"
Gudang market is just one spot that reflects the changes that the ban is bringing to people's attitudes to plastic bags and environmental protection.
Since shopkeepers began offering the bags more than a decade ago, Chinese consumers have been accustomed to carrying what they buy from shops in free plastic bags. The overuse of the plastic bags has been a big problem for a long time. "When it is windy, the plastic bags fly with the wind everywhere and streets which have just been cleaned are made a mess again," said Lai Zhiqing, a cleaner in Zhongshan City, south China's Guangdong Province.
Dong Jinshi, Vice Chairman of the Waste Plastics Recycling Committee of China Plastics Processing Industry Association, said the ban would cut the use of plastics bags by more than 60 percent and raise the recycling rate of one-time plastic bags.
In Shenzhen, a booming city in Guangdong, retailers use at least 1.75 billion plastic bags each year. Most of those bags take 200 years to decompose and some will never do so, according to the local environmental protection department.
Ahead of the national directive, Shenzhen announced as early as November 2007 that it was considering placing fees on the use of plastic bags, with fines from 5,000 to 50,000 yuan ($667 to $6,667) for retailers that gave them away for free.
Large supermarkets such as Wal-Mart have been advocating the use of eco-friendly cotton bags since late 2007. These bags are priced at 3 yuan ($0.42), significantly lower than their production cost, which is usually of around 9 yuan ($1.28), said Huang Li from the company's public relations department.
Huang said the ban would facilitate the promotion of eco-friendly bags and Wal-Mart would look at the issue closely before deciding whether to offer other kinds of substitute bags.
Internationally, legislation to discourage plastic bag use has been passed in many countries, where authorities either tax shoppers who use them or impose fees on companies that distribute them. In the United States, San Francisco became the first city to ban petroleum-based plastic grocery bags last year. In France, supermarket chains have begun shying away from giving away plastic bags and German stores must pay a recycling fee if they wish to offer them. Ireland's surcharge on bags imposed in 2003 has been credited with sharply reducing demand.
In China, it is becoming a fashion in many places for people to carry cotton bags or bamboo baskets when purchasing goods. There are even cool-designed cotton bags for fashionable young people. In markets, many people are now accustomed to saying, "I don't need plastic bags."