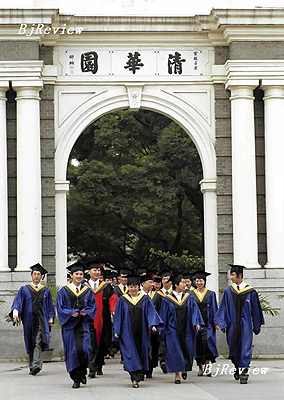 Located in the northwest of Beijing, Haidian District has residents from all 56 ethnic groups in China, making it the most ethnically diverse area of Beijing. In June 1954, Haidian, the name of an administrative district, officially appeared on the map. Over the last 20 years, the area has developed from an outskirt of the city into a modern district with science and technology, education and culture as its core industries.
Zhongguancun is a very famous place in Haidian District, which is renowned as the "Silicon Valley of China." In May 1988, approved by the State Council, the first state-level hi-tech industrial development zone--Beijing Experimental Zone for the Development of New Technology Industries--in Zhongguancun was formally established.
In October 1980, China's first private technology company was founded in Haidian. It was followed by many more. On November 1, 1984, Liu Chuanzhi and another 10 researchers from the Chinese Academy of Sciences formed a company with 200,000 yuan as start-up capital. They called the company Legend, and began to create their legend in a rented janitor's room.
About 20 years after that, in March 2004, Legend officially joined The Olympic Partner Program, becoming the first Chinese enterprise to do so in Olympic history. Legend has grown to become the giant of the domestic IT industry, and its name has changed to Lenovo. Its headquarters have also moved from Beijing to New York, and the firm has become more international.
There are many universities and colleges in Haidian, among which Peking University and Tsinghua University are well known. Together with other academic institutes, they are regarded as "smart reservoirs" for Beijing and even the country.
There have been many water routes in Haidian since ancient times. It benefited from its special location and beautiful landscape. Many ancient nobles built gardens and imperial palaces in the area. Over five dynasties, especially the Qing Dynasty (1644-1911), when emperors built Yuanming Yuan, the Summer Palace and other royal gardens, the area became regarded as "a gathering of the world's attractions." It became a political and cultural center besides the Forbidden City.
In old times, almost every village in Haidian had a drama stage. They were the cradle for the development of Chinese drama. The largest drama stage that still exists today is Deheyuan, or Garden of Virtue and Harmony, in the Summer Palace.