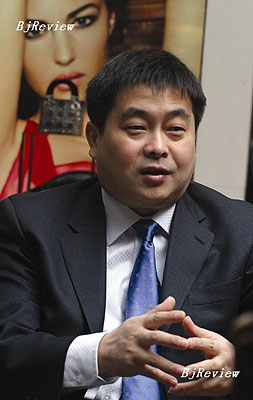 With the merger of the New York Stock Exchange (NYSE) and Europe's leading cross-border exchange Euronext drawing near to a close, a vast trans-Atlantic stock exchange-NYSE Euronext Inc.-will soon be born.
This marriage brings trading platforms in New York, Paris, Brussels, Amsterdam and Lisbon under one group, and includes the London International Financial Futures Exchange.
The new stock giant will establish a joint office in China this year, as China approved the NYSE and NASDAQ to set up offices in China after the first strategic economic dialogue between China and the United States last December.
Pan Kang, President for the China Region and Vice General Manager of the International Listing Department of Euronext, is currently busy scouting for Chinese companies hoping to raise money on Euronext.
In the following interview with Money Journal/Xinhua Finance, Pan discusses Euronext's China plan and shares his views on the trans-ocean merger of global stock exchanges.
Money Journal: By the end of 2006, approximately 1,300 companies had been listed on Euronext-25 percent of them foreign entities. In 2006, 142 new companies were listed on Euronext, and 21.4 billion euros were raised. Many are large Japanese enterprises such as Honda, Sharp and Mitsubishi Electric. Yet there are no Chinese enterprises listed on Euronext. Why have you only just begun to pay attention to them?
Pan Kang: Euronext has only recently completed integrating the main continental European exchanges in recent years, so no Chinese enterprises are listed at present. China is an enormous market, which has attracted many exchanges to come to "dig for gold." Naturally, Euronext wouldn't want to miss such a great opportunity.
You once said that Euronext wanted to see the first Chinese company get listed in the first half of this year. What companies are candidates? Which industries do the enterprises you are in dialogue with belong to?
Listing is a process in which there are many variables. Watson Biotech, a pharmaceutical company in Xi'an, capital of Shaanxi Province, was once expected to be the first Chinese enterprise listed on Euronext. But after the announcement of the Provisions for Foreign Investors to Merge and Acquire Domestic Enterprises, Watson Biotech had to wait for new approvals, resulting in a postponement of the listing. According to the current schedule, the first Chinese enterprise set to list on Euronext belongs to a traditional industry-textile manufacturing. If everything goes well, this company will be listed in either April or May.
Euronext welcomes all Chinese enterprises that meet the listing requirements. We hold no preferences. However, as far as investors' favor goes, enterprises we are in contact with are mostly hi-tech and fast-growing enterprises.
What are the long-term plans of Euronext in China?
There are at least 400 to 500 Chinese enterprises that meet Euronext's listing requirements. Yet, before we accelerate the number of listed companies, we need to go through a warm-up period. Many Chinese enterprises are still taking a "wait-and-see" approach toward Euronext. Nobody knows what will happen to the one "who takes the first bite."
The London Stock Exchange's AIM, the international market for smaller growing companies, has attracted many Chinese enterprises. In fact, it has only been a few years since the AIM board gained attention among Chinese entrepreneurs after a prolonged period of promotion. The promotion of an exchange brand is a long process, and at present, Euronext is still in the accumulation phase. Nevertheless, I believe that once we enter the "take-off" stage, the long-awaited referral effect will be realized.