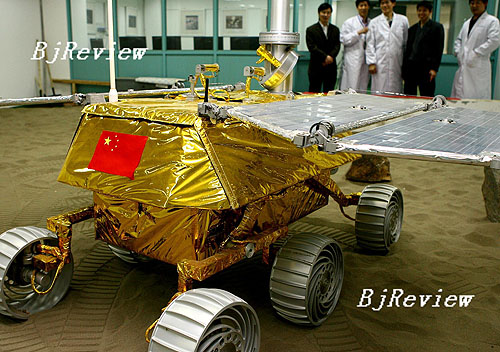 MOON BUGGY
A China-made lunar rover makes its debut at the Third China-UK Workshop on Space Science and Technology in Shanghai on March 31. The vehicle is said to be able to climb a 30-degree slope and overcome almost any barriers.According to China's Chang'e lunar exploration program, the country will launch its first moon orbiter later this year. Then in 2012, the lunar rover is expected to land on the surface of the moon aboard an unmanned vehicle for initial exploration. In 2010-17, a vehicle will land on the moon and collect samples of lunar soil. 
SOCIETY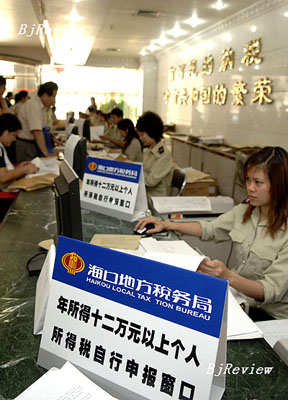 Discrimination Big Concern of Job Seekers
According to a Xinhua report, a total of 4,713 suggestions have poured into the Standing Committee of the National People's Congress (NPC) via Internet and e-mail over the 11 days since the public were invited to comment on the draft Employment Promotion Law on March 25.
Discrimination in the employment market is one of the issues of most concern, with people saying this is practiced in various forms. For example, China has 120 million hepatitis B virus carriers, most of whom feel the brunt of discrimination when seeking job.
A lot of suggestions deal with discrimination against women, the disabled, rural laborers and those who have not received higher education in the labor market.
Cutting Excess Staff
Government departments that exceed personnel quotas will be heavily penalized, according to a new regulation unveiled recently.
Staff quotas are set for government units in accordance with their workload. However, some departments have flouted the rules by hiring excessive numbers of staff, well beyond their needs.
The regulation, which came into effect on February 13, was issued by the State Commission Office for Public Sector Reform (SCOPSR) and the Ministry of Supervision.
It also aims to supervise and redress the problem of "dead souls." In some cases, former staff member's families have received their salary after they have died.
Medicare for All
China's cabinet decided to launch a pilot program to ensure that more urban residents are covered by basic medical insurance. One or two provincial cities will be chosen to test the program, according to the executive meeting of the State Council on April 4 chaired by Premier Wen Jiabao.
People--including children--who are not covered by basic medical insurance for urban employees can be insured against illness through the basic urban residents medical insurance.
The meeting stressed this new pilot program will help speed up the development of China's medicare services, a key concern of ordinary people.
The meeting also urged local governments to set reasonable insurance fees and respect people's wills.
More Frugal Governance
Beijing has vowed to reduce expenditure by government units by 10 percent this year, looking to set an example for other cities to follow and to take the lead in developing a conservation-minded government.
The administrative cost of China's governments at all levels are 25 percent more than the average level in the world, which has become a concern for the public and top leadership.
To reach the target of cutting expenses, the Beijing Municipal Government will keep a tight control on expenditure on items such as meetings, travel and transportation, according to government sources.
It will stop the construction of luxury office buildings and has ordered all government units to build no more training centers. The number of meetings and documents will be reduced.
Government units have been forbidden to compete with one another in lavishness or rash spending.
Land Official Investigated
In the wake of the Shanghai pension fund scandal last year, which resulted in the removal of former Shanghai Party chief Chen Liangyu, Yin Guoyuan, another high-ranking official in Shanghai is being investigated for his role in this 3.7-billion-yuan misappropriation case.
According to the Shanghai Securities News report on April 4, former Deputy Director of the Shanghai Municipal Housing, Land and Resources Administrative Bureau, is under investigation.
An unnamed discipline inspection official refused to disclose the nature of the allegations against Yin, but said a formal report on the issue would be released in the future, according to the newspaper.
Yin, who took up his former post in January 1995, left to become the chairman of the Shanghai Land Institute in October 2005.