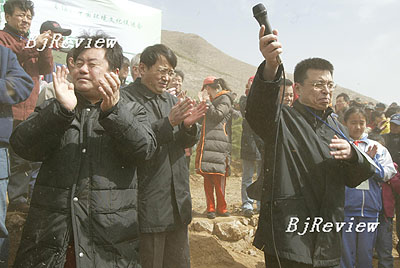 The good news is China's damaged ecosystem is recovering. The bad news is the speed of recovery is excruciatingly slow. Pan Yue, Vice Minister of the State Environmental Protection Administration, recently has a personal experience illustrating just how much of a serious challenge environmental damage is to China.
Pan, the No.2 in the country's top environment agency, joined dozens of celebrities from literary and art circles in a tree planting ceremony in Beijing's northern suburbs on March 31 to mark the country's first "Green China Day." When he was invited to deliver a speech, however, an unexpected sandstorm disrupted him.
It was the first sandstorm hitting north China this year and it reached as far as Japan and South Korea.
Though meteorological experts explained that China is not the source of the dust, Pan seized the embarrassing moment to his advantage by calling for more public participation in the environmental protection drive.
According to Pan, the risk from exhausting land, fresh water, mineral and forest resources is severely hindering the country's modernization drive, while public health is under severe threat from polluted water, air and soil. In the meantime, petitions and mass incidents caused by environment-related accidents are increasing at an annual rate of 30 percent.
A government report shows that pollution caused losses of 511.8 billion yuan in China in 2004, or 3.05 percent of that year's national gross domestic product of 16 trillion yuan.
People from all walks of life should fully exercise their constitutional rights to get involved in eco-preservation efforts.
In early 2006, China promulgated measures on public participation in the assessment of environmental impacts of engineering projects. Pan revealed that in the first half of this year, the country's first regulations on the publication of environmental information would finalized to ensure all social groups are well informed in this field.
"Tree planting is not enough for environmental protection."
Pan Yue
"The government's zero tolerance toward violations of environment statutes is a must for the public to build stronger confidence in the results of their participation in environmental protection."
Liao Dekai, civil servant in Sichuan Province
"We expect the ... (agreement) would provide a stepping stone that would catapult Korea into an advanced economy."
President of the Republic of Korea Roh Moo Hyun, welcoming the trade pact reached between Seoul and Washington on April 2 after nine-months of talks, despite fears in his country that heavily subsidized farmers could not survive a flood of cheaper U.S. farm products
"In Europe and the eurozone, I see possibilities to get better results than those in our last economic forecasts because there is a pretty intense recovery."
EU Economic and Monetary Affairs Commissioner Joaquin Almunia, commenting after figures released on March 30 showed consumer and business confidence in the European economy at six-year high in March, unemployment at the lowest level on record in February and inflation increasing only marginally in March
"This information is incorrect and absolutely does not reflect Russia's position on missile defense."
Russian Foreign Ministry Spokesman Mikhail Kamynin, denying reports that Russia could allow a U.S. missile defense shield onto its soil if the United States rethinks plans for a system on its borders in a statement released on March 31
"This provides us with our first good fossil evidence for both the timing and the biology of early modern humans spread across Asia. Yes, they spread out of Africa, but as they did, they blended with populations that were already there."
Erik Trinkaus, professor of anthropology at Washington University in St. Louis, explaining that a new study of the 40,000-year-old Tianyuan Cave skeleton, found near Beijing, suggests that today's humans evolved from both early modern people that migrated from Africa and archaic groups such as the Neanderthal
"His performance has been the greatest of all times."
Bob Bowman, Head Coach of the U.S. Men's Swimming Team, applauding Michael Phelps who reaped a record seven titles and smashed five world records at the 12th FINA World Swimming Championships in Melbourne on March 17-April 1