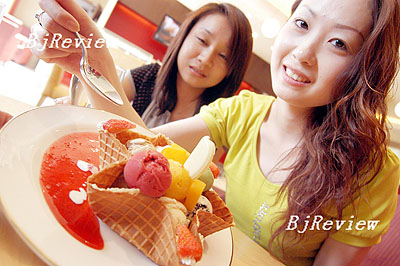 After every evening meal, Zhou Ling, whose family owns a small trading company, enjoys mung ice cream made by Mengniu. Her six-year-old nephew prefers a mini-milk ice cream from Yili. The two ice creams cost a minimal 1 yuan and 0.5 yuan respectively.
Every month, Zhou's family spends about 60 yuan in ice cream. Besides the mung and milk ones, they occasionally buy Viennetta, an ice cream brand under the name of Wall's produced by Unilever, at 15 yuan a box.
"Ice cream from domestic brands is delicious but much cheaper compared to foreign brands, so I prefer domestic brands," Zhou said.
An ice cream wholesaler in Beijing Xuzhuang Retail Market confirmed Zhou's opinion. The wholesaler sells both domestic brands such as Mengniu and Yili and foreign brands such as Wall's and Nestlé. In his shop, monthly sales of foreign brands account for less than half that of domestic brands.
"The best selling products are those costing 1 yuan," Zhou told Beijing Review. "Domestic brands control this part of the market." According to Zhou, most products from Wall's and Nestlé are priced above 2 yuan.
Scooping up the crème de le crème
On March 6, Nestlé launched a dozen new ice creams in Beijing, all priced above 2 yuan. The company also outlined its business strategy for the year, aiming to scoop into more market share in the premium ice cream segment. Nestlé, one of the world's leading ice cream makers, expressed confidence in continued strong ice cream sales growth, especially in the middle and high-end market.
Days before, the international ice cream giant Wall's launched a localized publicity campaign in Shanghai, inviting two singers from Singapore to promote sales of its most important product. It was the first time since entering the Chinese market 13 years ago that Wall's had invited entertainers to help promote its brand.
Wall's positioned itself as an internationally famous brand with prices often reflecting a fatter wallet when it entered China in 1993. However, with competition from domestic Chinese diary manufacturers such as Yili and Mengniu, Wall's has had to target the low-end market, a move that has led to price cuts. Nestlé, entering China a year after Wall's, now sees itself trapped into similar hand-to-hand combat with domestic Chinese manufacturers in the low-end market. In a bid for a larger market share, Nestlé has also turned to low-end products, switching from selling ice cream priced at 2-3 yuan to those retailing for 1-1.5 yuan.
However, advantages of low labor costs and access to cheaper milk and sugar have given the domestic companies the edge. Foreign brands were unable to beat the major domestic brands in the low-price range and saw their market shares licked away.
Owing to the recent rapid development of domestic brands, as well as a surge in costs of raw materials such as milk, sugar, chocolate and palm oil, foreign brands are now favoring middle and high-end products with higher added value. Last year, production costs for ice cream makers were further influenced by soaring sugar prices, which reached 5,800 yuan per ton from a rock-bottom of 2,500 yuan, and a nearly 20-percent increase in the price of milk.
"Since we don't have an edge in low-priced products, we will turn to developing products with a higher added value under our global development system," said Ken Donaldson, head of Nestlé Ice Cream in the Greater China Region. According to Donaldson, recently developed Nestlé products are all in the middle and high-end markets.
Nestlé has long intended to stake claims on the high-end market in China. At a product launch event in early March, Nestlé introduced more than 10 new products, all priced at or above 2 yuan. Among its 27 products available in 2007, only six were priced below 2 yuan.