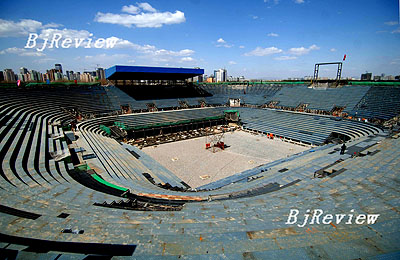 The construction of the Shunyi Olympic Rowing-Canoeing Park, which will be the venue for the boating, canoeing and swimming events at the Olympics and Paralympics next year, is almost complete, according to Wu Jingjun, Spokesman for the 2008 Olympics Projects and Construction Headquarters Office at a recent press conference.
The main portion of the park has been finished and the "greening" work is half done, Wu said in briefing the press about the construction progress of the Olympic venues.
Located in Mapo Village, Shunyi District, Beijing, the Shunyi Olympic Rowing-Canoeing Park is the largest sports venue being built for the Beijing Games, spanning 3,000 meters from north to south and 900 meters from east to west with a total area of 1.62 square km.
The park is one of the 31 new Olympic venues that are being built in Beijing, and one that will produce the largest number of medals in the Olympics because of the number of events that will be staged there.
The water area of the park will reach 700,000 square meters, and the water quality protection system has been included in the overall "Hi-tech Olympics" project and approved by experts from the Ministry of Science and Technology, according to Zhang Xiangdong, an official with the Shunyi Olympic venue construction office.
In early 2006, Beijing's water authority announced that it will step up efforts to improve the water quality for the aquatic sports venues of the Olympics. Comprehensive pollution reduction and control measures were increased in the first half of 2006 in the Chaobaihe (River), Qinghe (River) and Yangshangou (Channel), where aquatic sports venues and parks are located.
In line with the environmental protection concerns, the Shunyi Olympic Rowing-Canoeing Park in northeast Beijing will use the water supply from the Chaobaihe, while water used by the Olympic park is to be piped in from the Qinghe and Yangshangou.
On August 8, the first test event, the Rowing World Junior Championships, will be held at the Shunyi Olympic Rowing-Canoeing Park.
"After the 2008 Games, we will open this water park to the public to provide the citizens with a beautiful entertainment venue, or say, the largest tourism and leisure resort in northeast Beijing," said Zhang.