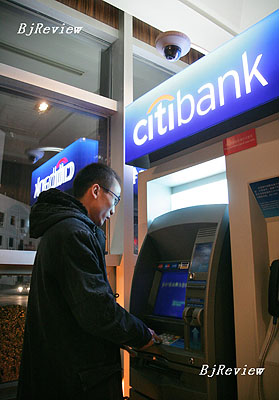 For most, $10 billion is an astronomical figure. But for qualified foreign institutional investors (QFIIs), a way for foreign players to invest in the Chinese capital market, this quota amount falls far short of demand.
When China initiated the QFII system in November 2002, foreign institutional investors were finally able to invest in Chinese stock market. Yet due to regulations, QFIIs can only operate with a fixed amount of investment determined by the China Securities Regulatory Commission (CSRC) and the State Administration of Foreign Exchange (SAFE).
So far, China has approved investment rights for 52 QFIIs, 49 of which have received a combined quota of $9.995 billion from SAFE. This figure nearly reaches the previously stipulated $10 billion ceiling and leaves three other QFIIs out in the cold. Only $5 million in quota allocations remain. Statistics from the first 49 show that the smallest quota among them is $50 million, far more than the $5 million left over for the final three.
The need for new quotas is so obvious that regulators can no longer ignore the clamor for more.
Despite the QFIIs' thirst for new quotas, the CSRC has yet to confirm a new batch. However, two versions of what the next step could be for the quota system are circulating.
China Daily has reported an industry insider as saying that the second batch of QFII quotas is under discussion. Pending government approval the new addition is likely to be around $6 billion, according to the insider. The Economic Observer quoted another insider as saying that the second batch would be $10 billion and that each QFII would have an upper-limit of $1 billion.
QFII are significant players
From a starting point of zero to nearly $10 billion in investments, QFIIs have become major players in Chinese stock market in just four years. By April 3, the total market value in Chinese stock markets (Shanghai and Shenzhen) had reached nearly 13 trillion yuan. QFII investment accounted for around 10 percent of that total.
The involvement of QFIIs provides new sources of capital for these markets, while at the same time helps the QFIIs themselves to explore the fledgling, and potentially huge, Chinese stock market.
In 2006, the bullish Chinese stock market grew by more than 130 percent. Domestic investors, believing greatly in speculation, trade heavily in order to earn a quick yuan on the price difference.
The entrance of QFIIs into the Chinese stock market has exerted great influence on domestic investors. QFIIs are more inclined to hold major blue chips for longer periods, selling them infrequently.
"Take Baosteel Co. Ltd. for example," said Chen Hong, chief investment officer of Fortis Haitong Investment Management Co. Ltd. "Though a Baosteel share might not rise a bit today, you know it's going to grow, sooner or later. Therefore, you can hold it."
In the third quarter last year, domestic fund management companies retreated one after another from holding stocks with major blue chips like Baosteel and China Yangtze Power Co. Ltd. On the other hand, QFIIs have constantly bought the same stocks when the prices were falling. Once domestic funds realized the value of these blue chips they had to pay at much higher prices for them.
For most QFIIs, the Chinese stock market comprises only a small percentage of their global strategy. Their investment in the Chinese market is relatively small.
"QFIIs won't trouble themselves with small investments, so they prefer to hold their favored stocks a lot longer than domestic investors," Chen stated.
Many domestic analysts dedicate themselves to analyzing QFII investment habits and movements to get tips on what might be the better stocks, learning from the skilled, veteran international stock market players. For many domestic investors QFIIs are more rational and professional.
"The Chinese stock market is too young and market participants like me are very inexperienced," said Zhang Danian, who closely follows the activities of QFIIs for investment tips. "We need external advice and QFIIs set a good example."
The dramatic stock market plunge on February 27 hasn't discouraged the QFII confidence in Chinese stock market.
"The Chinese Government has been making efforts to cool down the overheated stock market and curb over liquidity," said Sun Chuming, economist with Lehman Brothers (Asia). "Maybe the February 27 fall resulted from those measures."
Sun also said he believes the Chinese stock market would continue to grow full bore "due to the strong economic performance and growth of the country."