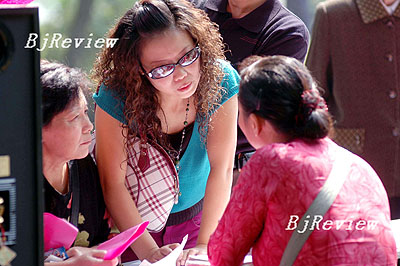 Liu Yun has spent the past Spring Festival, also known as Chinese Lunar New Year, with mixed feelings. "I enjoy the feeling of family reunion during the festival, but I really dread my parents pushing me to get married persistently," said the 25-year-old lawyer in Beijing.
Liu is not alone. Many single young white-collar workers find it annoying or embarrassing to deal with their parents pushing them to get married whenever the occasion arises, like during the Spring Festival.
Working in a variety of fields, most of them have one thing in common: they are well above the legal marital age but still unmarried.
Alarmingly, it is estimated that more than 1 million young people now fall into this category in Beijing and Shanghai. The Chinese media even dubbed them the "single wave"--a not-so-young generation that is failing to find love and marriage.
Some sociologists have called the current trend "the third single wave. " There have been two "single waves" since the founding of the People's Republic in 1949, they believe. The first wave appeared in the 1950s, when the first Marriage Law was enacted, leading to a sudden rise in divorces.
Then at the end of 1970s, when the Cultural Revolution ended, swarms of young people that had been sent to the countryside for reform physically and spiritually through labor returned to the cities, leading to another wave of singles.
The generation surfing the third wave is single not for institutional or historical reasons. According to Huang Lin, Associate Literature Professor of the Capital Normal University,more and more people choose to be single for various reasons, and the development of the single wave comes with the reform and opening-up.
Most of the new single wave received higher education and have white-collar jobs. Their age ranges from 22 to 38, with most falling between 24 and 30, according to a survey on the marriage situation of white-collar workers by www.love21cn.msn.com.cn and www.love21cn.com.
"Rarely have I seen people get married before 28 since I began working," said Wu Jin, a 24-year-old journalist with the local Beijing News.
Among those singles above the age of 30, there are 50 percent more women than men, according to another survey by Ge Hongbin, a Chinese Literature professor in Shanghai University, who is also the author of a book entitled The Singles Community of Modern Cities.
Although people today have more freedom to choose their own lifestyle, not all singles have chosen their situation.
"I'm not pursuing any trend. I think no-one will get stuck in single life if they've met the right person," said Chen Yong, a 28-year-old bank clerk in Beijing.
His comment was echoed by an online survey of female singles' life co-conducted by the Beijing Morning Post and Sina.com, in which only 5 percent of the respondents said they preferred single life to marriage while 57.39 percent wanted to get married before 30. Also, 66.47 percent of those surveyed said they remained single only because they had not found their Mr. Right.