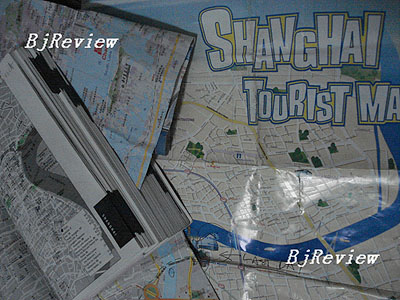 Picture this--you're in Shanghai, sitting in a hotel room, with five different maps of the city sprawled on the bed before you, and you're trying to logistically plan a day in this grand city. You know some Chinese characters, enough to find your way around with, so you look for the Chinese characters on the street maps. That sounds simple enough, doesn't it? Unfortunately, two of the maps before you have wildly different pinyin where the Chinese characters should be.
I should make a brief introduction. For the past seven months, I've been living in Wuhan, central China, a place with about a 10th the amount of English that Shanghai boasts, so I've learned some characters over that time from a mixture of pleasure and necessity. And the reason that I had five maps before me is that different things are marked on different maps. For instance, traffic maps versus sightseeing maps, and maps that mark things like English bookshops and arts precincts.
Introductions over, let's get back to pinyin. Let's be frank here, what use is a language if it has different spellings everywhere? I found Shanghai to be coated in differently spelled pinyin, and the phrasebook I have from Australia is an even worse offender (more on this later). For instance, I've seen one of the most common characters in China, "中" (central), translated into pinyin as zhong, zhoong, chung, choong, jung and jõong. What does this mean?
What it seems to mean is that pinyin can be respelled by anyone, according to their individual sense of phonetics. Let me give you more examples. My phrasebook from Australia (by a market leader in such books, which surprised me somewhat) even spells its pinyin differently from section to section. For example, the aforementioned jung became jõong in another chapter, and also yi gir on one page mysteriously becomes "ee gir on another (it's yi and er on the 1 and 2 jiao notes, so why change it?). Water can become shui, shway or xúi (they're all pretty different, aren't they?). Island becomes either dao or tao, depending where you read it (as far as I know it's correctly dao, so why is Tsingtao spelt Tsingtao?) And lastly, I've seen thank you, as xie xie, ché ché, and even syàir syàir. Surely this renders Chinese to English dictionaries laborious to the point of almost useless, because you never know when to look under X or S, D or T, or C or Z. What a mess!
The conclusion I've reached from seeing Shanghai is that her pinyin is being worked to be as absolutely phonetic as possible (for example, changing the "x's" into "sh's" and "zh's" into "ch's") because of the tourist factor--the bulk of Wuhan has yet to feel the necessity. But my point, if I have one, is this--is it better to make things easier for a tourist who'll be there for a week, while confusing someone who's been in China for a while and is slowly finding his or her linguistic feet? (I even became momentarily lost in Shanghai because one map had a zhong where it should have had a chang, which can make a universe of difference). I guess from an economic point of view, the answer might be yes, but from a social and cultural point of view, I'm not too sure.
Excuse my naivety here, and I guess this article might annoy some people who are more knowledgeable than me about this subject (for instance, I've heard pinyin changes from province to province), but where are there rules with pinyin? Where are the standards? Can literally anyone respell it, because it sounds more like a chung than a choong in their accent? Surely it could be argued that such inconsistencies render a language less than useful--an analogy might be someone picking up an English dictionary and randomly changing spellings throughout, just because he or she felt like it. That dictionary is now of less value, simply because of the subjectivity factor. Language needs some rules, and pinyin seems, to an outsider like me, rather a melting pot, and a bit of a free-for-all.
I'll leave you with the thought I had while negotiating my way around Shanghai, and it's this--just give me some Chinese characters…please!
The writer is an Australian editor and music journalist currently teaching in Wuhan, Hubei Province