It's early on Monday morning, in a recording studio in Hong Kong. A burst of applause rings out as local singers Eason Chan and Hacken Lee finish recording "We Are Ready".
Almost at the same time, in a Beijing studio, another group of singers celebrate the completion of their latest chapter.
Amid joy, recordings for the song to mark the one-year countdown to the Beijing Olympics wrapped up early on Monday.
Recordings have been going on simultaneously in different studios since July 23, and will be mixed together with the help of the Internet.
Currently in the final stages of editing, "We Are Ready" is slated for a grand release on August 4, days before the countdown begins on August 8.
A preview version is scheduled to be available on Wednesday.
The Hong Kong singers are just a small part of the 133 top Chinese musicians, spanning pop and rock, who have joined passionately in producing the song.
The big team includes Taiwan singer Elva Hsiao, Hong Kong's Joey Yung and Alan Tam, "Super Girl" Zhang Liangying and rock veteran Wang Feng from the Chinese mainland.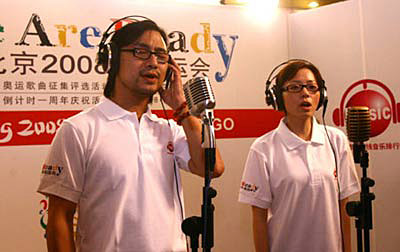 Chinese mainland singers Wang Feng (L) and Zhang Liangying record the song "We Are Ready" in Beijing.
Wang Feng said in an earlier interview that there were no bigger stars or lesser-knowns in the team, but were participants, all demonstrating the Beijing Games' theme of "I participate, I contribute, and I enjoy."
(CRI July 30, 2007)