PEOPLE
'China's Mr. Olympics' Dies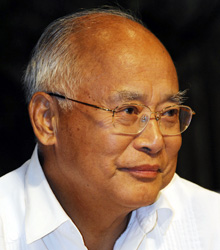 (XINHUA)
He Zhenliang, former Vice President of the International Olympic Committee (IOC), passed away in Beijing on January 4 at the age of 85. IOC President Thomas Bach asked for the Olympic flag to be flown at half-mast for three days in tribute to him.
He was born in December 1929 in Wuxi, east China's Jiangsu Province. His family moved to Shanghai during World War II. He graduated from Shanghai-based Fudan University in 1950, majoring in electric engineering. He was selected for his outstanding foreign language ability in French, Russian and English to work in Beijing that year. He started his Olympic mission in July 1952 when he attended the 15th Olympic Games as an interpreter.
He was elected to the IOC in 1981 and became its vice president in 1989. He was instrumental in Beijing's successful bid for the right to host the 2008 Olympic Games.
New Energy Head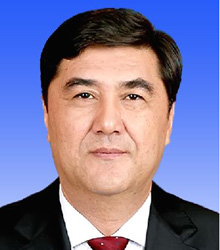 (FILE)
Nur Bekri, former Chairman of Xinjiang Uygur Autonomous Region, was appointed to head the National Energy Administration in late December 2014. He has also taken a position as deputy head of the National Development and Reform Commission, the nation's top government agency in charge of macroeconomic planning.
Nur Bekri, a Uygur, was born in August 1961 in a village near Kazakhstan in Xinjiang's Bortala Mongol Autonomous Prefecture. He enrolled at Xinjiang University in September 1978 and studied political theory. After graduation, he worked at the university before joining the civil service. Since 1993, he has held a number of government posts, including deputy prefectural commissioner of Kashgar, deputy secretary general of the Xinjiang Uygur Autonomous Regional Government and mayor of Urumqi, the capital of Xinjiang. He became chairman of the regional government in 2008.
His recent appointment points to the Central Government's high expectation of the development of China's northwest.
QUOTE
"The government should avoid paying too much attention to the speed of financial revenue growth."
Lou Jiwei, Finance Minister, on China's "new normal," at a recent finance conference in Beijing
"The high incidence of corruption is blamed on the deformity of social values and the officials' strong desire for material benefits."
Pi Yijun, a law professor at the China University of Political Science and Law, commenting on the government's vow to conduct a persistent campaign to fight corruption
"Mobile users are required to present their ID information when they apply for numbers."
Zhao Zhiguo, an official with the Ministry of Industry and Information Technology, encouraging users who had acquired their phone numbers before the policy emerged to register
"The increase in blue skies and decrease in pollution days show our measures on air pollution control are effective."
Fang Li, Deputy Director of the Beijing Environmental Protection Bureau, announcing an improvement in the city's air quality on January 5
MEDIA DIGEST
Ling Jihua's Brothers
Caixin Century Weekly
December 29, 2014
On December 22, 2014, state media announced that Ling Jihua, a senior Party official and national political advisor, was under investigation for suspected serious disciplinary violation. Ling had served as vice chairman of the National Committee of the Chinese People's Political Consultative Conference and head of the United Front Work Department of the Central Committee of the Communist Party of China.
Ling has three brothers and one sister. His eldest brother Ling Fangzhen died of an accident in the 1970s. His second eldest brother Ling Zhengce built up influence in Shanxi Province, the coal-rich home of the family where he served as vice chairman of the province's political consultative body before being put under investigation in June 2014. He was also the head of Shanxi's development and reform office, which wields great power in the distribution of coal resources in the province.
His younger brother Ling Wancheng worked at Xinhua News Agency for nearly 20 years before being named head of a company under telecommunications giant China Netcom in 2003. In 2008, he led a group of Shanxi businessmen to establish a private equity fund and invested in online TV, having reaped a profit of at least 1.2 billion yuan ($193 million). He was placed under investigation in October 2014. Only Ling Jihua's sister Ling Luxian, who works at a local hospital, remains in Yuncheng, Shanxi, taking care of their 104-year-old father.
Purchasing Property Abroad
China Newsweek
December 25, 2014
Given the restrictions some large Chinese cities have placed on buying property in a bid to cool the real estate market, more and more Chinese are choosing to purchase property abroad.
The United States is the hottest destination for Chinese property buyers. A report published by the National Association of Realtors in July 2014 showed that China has overtaken Canada as the biggest overseas buyer in the U.S. property market. Chinese property buyers also topped the list of overseas buyers in Australia. Moreover, small European countries such as Cyprus are becoming new targets thanks to their permanent residence policies. For example, Cyprus grants "green cards" to those who buy property worth above 300,000 euros ($356,252).
On the one hand, purchasing property abroad provides a new channel for investment; on the other hand, such a choice might harbor hidden risks. Chinese buyers may not know the distinction between residence permit, permanent residence, immigration and naturalization and be cheated by real estate brokers. Besides, as Chinese customers are unfamiliar with the housing market abroad plus linguistic obstacles, they will easily run into troubles in negotiating contracts or calculating taxes.
Chinese customers should adopt rationality in making investments abroad. According to a July 2014 report by the Bank of America Merrill Lynch, a U.S. investment bank, the rising trend of U.S. housing prices will stop in 2016 and then the prices will enter a six-year period of zero growth. While low prices seem like a great incentive to buy, the future remains unclear.
Ending Prisoner Organ Use
Beijing Youth Daily
January 4
China stopped using human organs from executed prisoners starting on January 1. Voluntary organ donation will be the only source of organ transplants.
Getting organs from executed prisoners for transplants has long been controversial, although written consent was required from donors and their relatives. Ending such a practice has won acclamation from the public; however, making up for the big shortage of human organs in China remains a thorny issue.
According to statistics from the National Health and Family Planning Commission (NHFPC), 300,000 people are in need of organs for transplants every year, and only 10,000 can receive transplant operations.
The public has been able to donate organs after death under a nationwide system launched in 2010 by the NHFPC and the Red Cross Society of China. As of December 2, 2014, there were 2,948 organ donors from the public through the system, involving 7,822 organs, according to official figures. However, such numbers fall short of the demand.
The public's low willingness for organ donation may be attributed to the current system. For example, many are unclear about how donated organs are distributed and worry that political power may intervene in the process. They also have questions about the donation procedure. A difficult process may hinder the desire to donate organs.