PEOPLE
Sexologist's Audacious Admission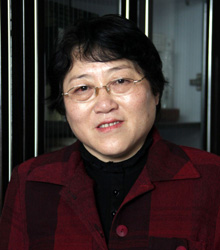 (FILE)
Li Yinhe, a leading Chinese sexologist and sociologist, revealed her partner of 17 years is a female-to-male transsexual in her blog on December 18, 2014, refuting tabloid newspapers that have said Li's long-term cohabitant is female and she is a lesbian. She also disclosed the couple had adopted an abandoned, mentally disabled boy, as her partner wanted to be a parent.
"My partner is physically a woman, but psychologically, a man. His appearance and thoughts are like every man. In this sense, I'm not gay, but still heterosexual," Li wrote.
Li retired from the Institute of Sociology at the Chinese Academy of Social Sciences in 2013. The 62-year-old academic has a PhD degree in sociology from the University of Pittsburgh in the United States. Her views supporting the legalization of same-sex marriage, defending wife swapping and urging the scrapping of "group licentiousness" in the Chinese law have rocked public life over the past decade.
Fugitive Official Turns Himself in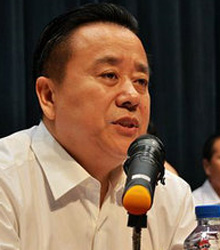 (FILE)
Wang Guoqiang, former secretary of the Communist Party of China (CPC) Committee of Fengcheng City, northeast China's Liaoning Province, returned to China from the United States on December 22, 2014, and turned himself in to disciplinary authorities. Wang gave himself up along with a confession statement.
This is one of the key cases currently being handled by a high-ranking anti-corruption office in its quest to repatriate suspects and return illegally acquired assets to the state in China's wider anti-corruption drive, according to the CPC Central Commission for Discipline Inspection. Both China and the United States acknowledged that this was an important case, it said.
Wang, 55, went into hiding in the United States in April 2012. An investigation by the Liaoning provincial CPC disciplinary watchdog showed that he was suspected of accepting bribes, engaging in business activities in violation of Party rules and going abroad without authorization.
QUOTES
"Overseas NGOs will have to register with and be approved by Chinese authorities if they want to set up representative offices on the mainland or temporarily operate on the mainland for a certain program."
Yang Huanning, Vice Minister of Public Security, elaborating on a new bill on overseas NGOs that was submitted to the National People's Congress Standing Committee for deliberation on December 22, 2014
"I think readers are now tired of being lectured to by books. They crave relaxation and relief."
Zhang Jiajia, a 35-year-old writer who topped a recently released Chinese writers' rich list, speaking about his success
"Petitioners could choose 'satisfied,' 'so-so,' and 'not satisfied,' and submit comments within 30 days after they see the results of their petitions."
Fan Xiaomao, deputy head of the State Bureau for Letters and Calls, referring to the bureau's new measures aimed at improving the transparency of China's petitioning system that went into effect on January 1, 2015
"Abuse of children by legal guardians has become a very severe problem in society."
Hu Yunteng, an official with the Supreme People's Court, commenting on the court's new guidelines under which parents who sexually abuse their children will be stripped of custody rights on December 23, 2014
MEDIA DIGEST
Probing the Air Purifier Market
Oriental Outlook
December 25, 2014
Statistics show that in the first 11 months of 2014, the retail sales of air purifiers by foreign brands accounted for 81 percent of the country's market.
However, most of the so-called foreign air purifiers are manufactured in China, and in some extreme cases, Chinese companies register a brand in a foreign country and thus their product becomes a de-facto foreign commodity. Nevertheless, foreign brands, including international brands like Philips, Sharp and Panasonic, do not guarantee good quality, as was found by the Shanghai Municipal Bureau of Quality and Technical Supervision in a sample examination in 2013.
Small Chinese brands pose no threat to big foreign competitors, despite the rocketing number of new air purifier producers, but some of the more reputed Chinese brands will bring competition and make the whole market more mature to the benefit of consumers.
Newcomers are competing for more of the market share. In the first half of 2013, the top five brands accounted for around 70 percent of the market share, but that figure dropped to 54 percent in the first half of 2014.
In contrast to the fast-growing air purifier market, the formulation of product standards is lagging far behind. China's Standardization Administration will issue national standards on air purifiers in the first half of 2015, which will take effect in the second half of the year.
Stop-and-Go Electric Vehicles
Caijing Magazine
December 15, 2014
According to statistics issued by the Ministry of Industry and Information Technology in early December, 56,700 new energy vehicles were manufactured in the first 11 months of 2014, up by five times compared to the same period of the previous year.
Stimulated by incentive policies, the production and sales of electric vehicles saw a sharp rise. The question now is whether this market can maintain high growth when subsidies are cancelled, which, according to the Ministry of Science and Technology, will happen in 2020.
China is likely to become the second largest electric vehicle market, only next to the United States. However, even after the rapid expansion, the electric vehicle market in China accounts for only a small share of its overall vehicle market.
Nevertheless, to cope with the shortage of fuel oil and air pollution problems, energy-saving and new energy vehicles have become the direction of the international auto industry. As for China, a country largely depending on imported oil, efforts to reduce the use of motor vehicles will help cushion energy security threats.
Electric vehicles are bringing new opportunities. Internal combustion engines have ruled the auto world for almost a century, but their status is being shaken by new energy vehicles. Will the electric vehicle become the next king of the auto world?
Real Estate Registration
Beijing Youth Daily
December 23, 2014
The Chinese Government recently issued provisional regulations on real estate registration, which will go into effect on March 1, 2015. According to the regulations, all governments above the county level shall designate an agency responsible for the registration of the ownership of land, forests, buildings and other immovable properties in their areas.
The new system, which charges the Ministry of Land and Resources with overseeing real estate registration across the country, appears poised to enhance administrative efficiency. Currently, more than 10 different government departments are involved, often resulting in red tape and confusion among the public.
Another important reason for the high anticipation of unified real estate registration is that many believe it will bolster the government's anti-corruption campaign. Indeed, the database to be created under the new system will make it easier to identify property owners, thereby assisting with the investigation of graft and embezzlement suspects. The government, however, has ruled out illegal access to the database to protect property owners' privacy.
Although real estate stocks plummeted following the release of the regulations, the new registration policy will not deal a devastating blow to China's cooling housing market. The country's ongoing urbanization drive will continue to inject impetus to this sector.