Film Mogul & Art Collector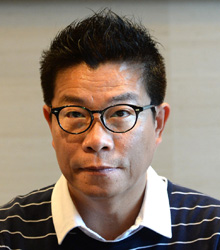 (FILE)
Wang Zhongjun, Chairman of the Beijing-based Huayi Brothers Media Corp., reportedly bought Vincent Van Gogh's masterpiece Still Life, Vase With Daisies and Poppies at Sotheby's New York on November 4 for $61.8 million. This painting was produced in June 1890, one month before the artist attempted to take his own life.
Wang was born in November 1960 in a military family. He joined the army in 1976. After leaving the army, he studied in the United States from 1989 to 1994 and got a master's degree of mass media at State University of New York. In 1994, Wang Zhongjun and his younger brother Wang Zhonglei co-founded Huayi Brothers, which has since evolved into one of China's largest private entertainment groups engaging in film, TV, music and other businesses.
Wang Zhongjun, who has been a fan of painting and art since childhood, has a reputation as an influential art collector.
Designer for APEC Leaders
(FILE)
Luo Zheng, a prominent fashion designer in China, has become a focus of the fashion world as one of the designers of outfits for APEC economic leaders, who held their annual meeting in Beijing in early November. This year's outfits were widely applauded for successfully combining traditional Chinese elements with modern fashion concepts.
Luo was born in June 1970 in Beijing. She graduated from Shenzhen University in 1991. Five years later, she created her own fashion brand and became chairwoman and design director of her own clothing company in Shenzhen, south China's Guangdong Province.
Luo has been known as a talented designer in the fashion circle. She was honored as one of China's top 10 fashion designers in 2002. She has also won awards by global fashion brands like U.S. brand Nautica, and was invited to design for French brand Louis Vuitton.
"Efforts must be stepped up to advance market-oriented reforms, and a final push may even be needed to give impetus to them at an appropriate time."
Lu Feng, a Peking University professor in economics, stating Chinese President Xi Jinping's latest elaboration on the "new normal" theory has served to build consensus for bolder economic reforms
"The official will be held accountable even after he goes to other posts, retires, or quits his job."
Yuan Shuhong, deputy head of the Legislative Affairs Office of the State Council, noting that China is to set up a lifelong accountability system for officials in a recent interview with China Radio International
"The new arrangement will facilitate the introduction of yuan-denominated investment products by financial institutions in Hong Kong and enhance its position as an offshore yuan business center."
Norman Chan, Hong Kong Monetary Authority Chief Executive, commenting on the central bank's decision to abolish the daily 20,000 yuan ($3,260) conversion cap for Hong Kong residents
"Monetary policy in China is clearly geared toward the long term, and China has the benefit of large reserves and a growing economy, with a vigilant central bank. I think all the ingredients are there to address the potential market volatility."
Christine Lagarde, Managing Director of the International Monetary Fund, speaking in Beijing on November 12