Magic Coach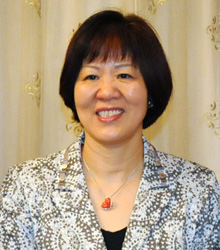 (XINHUA)
Lang Ping, head coach of the Chinese Women's Volleyball Team, guided her players to a second-place victory in the FIVB (International Federation of Volleyball) World Championship on October 11, after a 1-3 loss to the United States in Milan, Italy. The result provided a much-needed morale boost for the team, which had been through a string of poor performances.
Lang, 54, played a central role in the Chinese team's winning of its first three world titles: at the World Cup tournament in Japan in 1981, the World Championship in Peru in 1982 and the Los Angeles Summer Olympic Games in the United States in 1984. Nicknamed the "Iron Hammer," she is regarded as one of the most respected athletes in modern Chinese sports history.
Lang coached the Chinese team to win an Olympic silver medal in Atlanta, the United States, in 1996. She also led the U.S. women's team to a silver at the Beijing Olympic Games in 2008. Lang started her second tenure as head coach of the Chinese team in April 2013.
Decorated Poet
(CFP)
Jidi Majia, a famous poet from the Yi ethnic group, won the 2014 Nkiva Humanitarian Award on October 10 in Cape Town, South Africa. The award, which was created in 1999 and named after famous South African human rights leader Richard Nkiva, commends leaders and cultural celebrities who have maintained active connections with the people. Jidi Majia is the first Asian to win the award.
Jidi Majia, 53, started writing poetry in 1982. Many of his poems take inspiration from culture and history of the Yi people, who—numbering more than 11 million—mostly inhabit southwest China. Over 20 of his poetry collections have been published at home and abroad. His most famous collection, Rhapsody in Black, is available in English, French, Russian, Japanese, Spanish and Romanian, and has been distributed in over 30 countries and regions .
Jidi Majia is also an initiator and leader of various cultural activities, such as the Qinghai Lake International Poetry Festival and China (Qinghai) World Mountain Documentary Festival.  
"I am confident we can achieve the annual growth target [of around 7.5 percent]."
Li Pumin, spokesman for the National Development and Reform Commission, China's top economic planner, stressing at a press conference on October 14 that the country's economic growth will remain within a proper range in the fourth quarter as government policies to stimulate consumption and stabilize investment gradually filter through
"A market economy should not be a corrupt economy, and China's economic growth is not achieved through opportunities created by corruption."
Xin Ming, a professor at the Party School of the Central Committee of the Communist Party of China
"We hope that people in rural areas can enjoy the same consumption choices as in cities and that entrepreneurs can set up businesses in rural areas."
Zhang Yong, Chief Operating Officer of New York-listed Alibaba Group, China's leading e-commerce platform provider, announcing a new business expansion plan on October 14
"Violators have to pay a much higher price than before."
Zhong Chonglei, chief of the Beijing Environmental Monitoring Team, on local authorities' plan to adopt a special and strict air pollution control plan for APEC meetings scheduled for next month in the city