E-commerce Pioneer Goes Global
(FILE)
Ma Yun (better known as Jack Ma), Chairman of the Board and co-founder of Alibaba Group, has vowed to make his e-business company known to the world with its initial public offering on the New York Stock Exchange.
"Today, 15 years have passed, and we've grown so significantly and have become a household name in China," Ma said in a promotional video. "And now, we are ready for the world to get to know us."
Ma created the business-to-business e-commerce platform Alibaba in 1999. In May 2003, he founded retail website Taobao.com, and in December the following year, Ma launched Alipay, which is now China's leading third-party online payment solution.
Born in 1964 in Hangzhou, east China's Zhejiang Province, Ma is one of the most widely recognized representatives of China's Internet entrepreneurs. He was named the richest man in China earlier this year, with his wealth valued at over 134 billion yuan ($21.8 billion).
Lawyer Takes on Rail Authority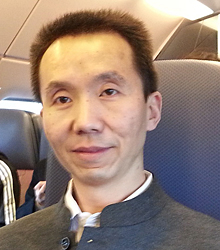 (FILE)
Earlier in September, Dong Zhengwei, a lawyer in Beijing, won his lawsuit against the National Railway Administration (NRA) over high ticket refund fees.
China Railway Corp. announced in August 2013 that the fee for a refunded ticket was to rise from 5 percent of the ticket's original cost to 20 percent for tickets returned 24 hours or less before the scheduled departure time. During the Spring Festival travel rush, the fee would be 20 percent of the cost, no matter when passengers returned their tickets.
Dong demanded the NRA, which is responsible for overseeing the corporation, publicize all information related to ticket refund fees. After the NRA refused to do so, he took the administration to court in April. The NRA was ordered by the court to reconsider Dong's request.
Dong, born in 1973 in central China's Henan Province, has been active in legal actions regarding consumer rights, anti-monopoly drives and the disclosure of government information.
"Chinese consumers are increasingly opting for healthy foods. And that's where Chilean products come in."
Jorge Heine, Chilean Ambassador to China, predicting China will become a main importer of Chile's foodstuffs in a decade, in an article published in a Chilean newspaper on September 16
"It is a symbol of the RMB's internationalization with a more solid basis on the European continent, and it is also a reflection of the great attention and recognition the RMB has gained from the global financial market."
Tian Guoli, Chairman of the Bank of China, announcing the first offshore RMB-denominated bond listing by the bank on Euronext, the eurozone's primary exchange, in Paris on September 15
"Our mine-hunting efforts over the past three years have turned out the most remarkable results since 1949."
Peng Qiming, Director of the Geological Exploration Department of the Ministry of Land and Resources, reporting on Chinese prospectors' success in finding 451 medium-sized and large mines of natural resources from 2011 to 2013, on September 12
"The major difference between America and China is that Chinese teachers, parents, children and administrators are all on the same page and work toward the same goal."
Reina Joa, a math teacher at New York City's Brooklyn High School of the Arts who recently took a 10-day professional development trip to Shanghai, in an interview with Xinhua News Agency