Admirable Teacher
(FILE)
Zhou Lina, the only ethnic Han teacher at a bilingual kindergarten in Artux, northwest China's Xinjiang Uygur Autonomous Region, was honored with the title of Most Gracious Village Teacher in China along with nine other people on September 10 for their outstanding contributions.
Zhou, 47, was born and raised in northeast China's Liaoning Province. She and her Uygur husband, Nasrula Umar, met in 1993 in Shenyang, capital of Liaoning. In 2000, Zhou moved to her now-husband's hometown, a township in Artux. Zhou was a full-time homemaker until 2006, when she was invited to be an entry-level Mandarin teacher at the central primary school in the township. She was appraised as an excellent teacher several times. In 2010, Zhou was awarded tenure and works at a nearby kindergarten. She and her husband have been providing assistance from their slender income to impoverished local students every month.
Search Engine Boss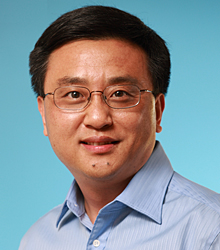 (FILE)
Zhang Yaqin, a former top executive for Microsoft Corp. in China, was appointed president of Beijing-based Baidu Inc., the world's largest Chinese-language Internet search provider, on September 10. Zhang was born in 1966 in Taiyuan, north China's Shanxi Province. He was selected to study electrical engineering at age 12 at the prestigious China University of Science and Technology as part of a special program for gifted kids. At age 18, he began attending George Washington University, earning a Ph.D five years later. In 1997, he was honored as a Fellow with the U.S. Institute of Electrical and Electronic Engineers, becoming the youngest scientist to earn the title in the institute's history. Zhang also possesses over 60 U.S. patents.
The 48-year-old Microsoft veteran had been a corporate vice president and chairman of the company's Asia-Pacific Research and Development Group for more than a decade, controlling the company's largest research and technology incubator outside the United States.
Baidu Board Chairman and CEO Robin Li Yanhong said that he hopes Zhang will help Baidu edge into emerging fields with his rich technology expertise and service experience.
"Only with a clear idea of the nature and soul of Confucianism can it play a greater role in China's reform drive."
Yang Chaoming, head of the Qufu-based Confucius Research Institute, at a seminar on the role of traditional culture in today's society held on September 6 in Qufu, east China's Shandong Province, the birthplace of ancient Chinese philosopher Confucius
"First we need to clear up rights to reside, rights to run businesses, and residential ownership rights; then we can worry about gradually harmonizing the two-tiered registration system."
Li Yining, a renowned Chinese economist, on China's urbanization process at the St. Petersburg State University of Economics and Finance on September 8
"What we cannot allow is undermining the country's interests while doing business in this market and profiting from it."
Lu Wei, Ministerr of the State Internet Information Office, elaborating on the Chinese Government's Internet management policy on September 9
"Treating China as an entirely non-market economy might have been a reasonable policy two or three decades ago, but it's not a reasonable policy today."
Nicholas Lardy, a senior fellow at the Peterson Institute for International Economics in Washington, D.C., commenting on the transformation of China's economy in an interview with Xinhua News Agency on September 10