Official Sentenced for Negligence
(FILE)
Tong Mingqian, a former senior official in central China's Hunan Province, was sentenced to five years in prison for neglect of his duties in one of the largest election frauds in China on August 18.
A Beijing court convicted Tong, 56, of failing to investigate and stop a large-scale election fraud last year while serving as the leading official of Hengyang, Hunan. Then Secretary of the Communist Party of China Hengyang Committee, Tong was responsible for organizing the election for the city's deputies to the provincial people's congress. During the election, he was informed that some candidates offered bribes to buy votes but took no measures to stop the illegal practices.
Investigations showed 56 candidates bribed hundreds of city lawmakers and staff for election to the provincial legislature. The amount of money involved exceeded 110 million yuan ($17.9 million).
Award-Winning Poet Faces Backlash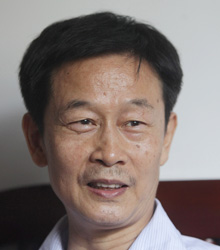 (FILE)
Zhou Xiaotian, a poet and professor with the College of Literature and Journalism at Sichuan University, came into the center of controversy after winning the prestigious Lu Xun Literature Prize in mid-August for his poetry collection, Invitation to Tea.
Not long after the prize was awarded, Zhou's verses were posted online by Internet users, with one commenting that they were "nothing more than doggerels unworthy of the prize." Many have criticized the winner for the colloquial style of his poems. Zhou, however, has refuted the criticisms. "Vernacular poems are not necessarily ill-written. You can hardly expect people to read serious poems nowadays," he said. Zhou, born in 1948 in southwest China's Sichuan Province, is adept at writing poems about current affairs using ancient Chinese poetic forms but vernacular language.
The poetry prize, named after Lu Xun (1881-1936), one of China's best-known modern writers, was first awarded in 1986. It honors writers of outstanding short- to mid-length novels, poems, prose, reportage and literary reviews, and is bestowed once every three years. 
"The gap between these companies and their Western counterparts is not that big. China's drone industry is quite competitive, especially in the areas of avionics and flight control."
Zhang Feng, Secretary General of the Aircraft Owners and Pilots Association of China, commenting on the technological prowess of Chinese unmanned aerial vehicle companies in a recent interview with Xinhua News Agency
"China's active participation in drawing up international standards will help domestic toy factories better understand and employ such standards in production."
Li Zhuoming, an executive with the Guangdong Toy Association, speaking on August 15 about China's release of a new international toy safety standard adopted by the International Organization for Standardization, which is largely based on a Chinese national standard
"Almost three quarters of the parts of the Great Wall that was built during the Ming Dynasty (1368-1644) are poorly preserved, and under 10 percent is in sound condition."
Wu Guoqiang, Secretary General of the China Great Wall Society, at a seminar in Beijing on August 15, calling for intensified efforts to preserve the Great Wall, which was built from the 3rd century B.C. to the A.D. 17th century for military defense
"Kenya and China have been recognized by the CITES [Convention on International Trade in Endangered Species of Wild Flora and Fauna] for their dedication to alleviating the menace of poaching. Both countries mete out heavy penalties on offenders."
William Kiprono, Director of the Kenya Wildlife Service, commenting on China's donation of anti-poaching equipment worth $20,000 to Kenya on August 15