UN Commander Completes Mission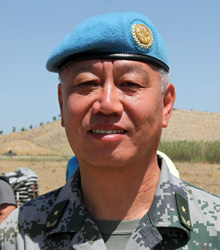 (CFP)
Liu Chao, a Chinese Major General and Commander of the UN Peacekeeping Force in Cyprus (UNFICYP), was relieved of duty on August 11.
Liu had been in the most senior peacekeeping position yet held by China since being appointed leader of UNFICYP on January 13, 2011. Since then, he headed 860 UNFICYP troops from 12 countries.
Born in northeast China's Liaoning Province in 1959, Liu has over 30 years of military experience at national and international levels. He previously served as the military attaché at the Embassy of China in India and was a military observer in the UN Mission for the Referendum in Western Sahara. UN Secretary General Ban Ki-moon recognized Liu's service with UNFICYP, where his dedication, professionalism and leadership greatly contributed to UN efforts.
Director Honors Deng Xiaoping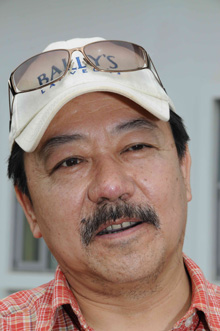 (CFP)
Wu Ziniu, a famous Chinese movie and television director, has made a popular tribute to ce-lebrate the 110th anniversary of late Chinese leader Deng Xiaoping's birth with a TV series titled Deng Xiaoping at a Historical Turning Point. The show has gained wide attention since premiering on China Central Television Channel 1 on August 8.
This 48-episode drama traces China's historic transformation under Deng's leadership from 1978 to 1984 when the country's reform and opening-up drive was in full swing through a creative lens. It not only puts Deng's working life into the spotlight, but also tells stories of several ordinary families in Beijing during that period.
Wu, who was born in the early 1950s in southwest China's Sichuan Province, has won several top movie and TV play awards in China. He is famed as one of the representatives of China's fifth-generation directors. Wu has expressed his hope that the audience will feel Deng's love for his family as well as his country from this TV series. 
"China's property market has outgrown its surefire get-rich-quick expansion period. Now, it is heading into a new era where Chinese buyers demand more from property developers under stepped-up competition from both within and outside the housing sector."
Zhu Zhongyi, Honorary Vice Chairman of the Chinese Real Estate Association, at the Boao Real Estate Forum in Hainan Province on August 8
"Residents will feel the pain if inflation goes too high, but the economy and companies will suffer if it is too low. Having the consumer price index (CPI) at about 2 percent is an ideal level."
Yang Hongxu, deputy head of the Shanghai-based E-House China R&D Institute, commenting on China's CPI growth of 2.3 percent year on year in July, on August 9
"As the economy slows down and demand for business-class service wanes, Air China has to tighten its belt."
Lin Zhijie, a civil aviation expert, explaining the motives behind Air China's new seat selection fee, on August 12
"Military-to-military engagements, like RIMPAC [Rim of the Pacific drill] and this port visit, are very important to the relationship between our navies. They help us build trust and enhance transparency."
Rear Admiral Patrick Lorge, Commander of the U.S. Navy Region Southwest, speaking at a welcoming ceremony for a visiting Chinese flotilla in San Diego on August 10