Celebrity Educator Converts to Buddhism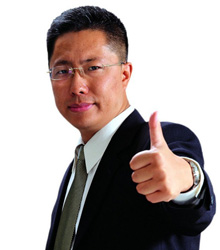 (FILE)
Li Yang, creator of the Crazy English method of language learning, became a layman disciple of Shi Yongxin, head of the Shaolin Temple in central China's Henan Province, on August 2.
The 45-year-old celebrity educator said he plans to build the world's biggest kungfu and language training center in Dengfeng City, where the Shaolin Temple is located. He also plans to hold an international English winter camp at the temple in 2015.
Crazy English, created by Li in the early 1990s, is a non-traditional teaching method that uses shouting to help students memorize and practice the language.
Li's claimed conversion to Buddhism has drawn scathing comments from netizens, with some saying that this is likely another marketing gimmick to sell more Crazy English books. A domestic violence scandal several years ago put Li at the center of controversy.
Li was born in Wujin of east China's Jiangsu Province, and graduated from Lanzhou University in 1990. He had worked as an English radio and TV anchor in Guangzhou before starting his own education business.
Scandalous Socialite Under Investigation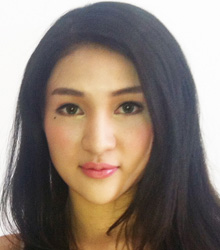 (FILE)
Guo Meimei, the 23-year-old best known for landing the Red Cross Society of China (RCSC) in a credibility crisis, has been investigated for her involvement in illegal gambling and sex trade and for spreading rumors.
Guo confessed to the police that she had nothing to do with the RCSC. Her claims and online behavior were simply publicity stunts to attract attention. According to Beijing police, Guo's wealth came from illegal gambling, commercial performances including singing, and sex trade.
Guo came into the spotlight in 2011 when she posted photos of herself with luxury handbags and an expensive car on her microblog and claimed that her "adopted dad," a euphemism for a sugar daddy, helped her become the general manager of an organization under the RCSC.
Her posts triggered concern over how donations are used by the country's state-run charitable organizations and dealt a major blow to the RCSC, which has been struggling to regain trust since.
Guo was born in Yiyang City in central China's Hunan Province, and grew up in a single-parent family.
"The ovum trade is the same as trade in human organs: illegal. A regulation related to assisted reproduction bans trade in embryos."
Kang Kai, a lawyer with the Beijing Jinghua Law Firm, responding to an online advertisement seeking female undergraduates in Beijing willing to sell their ova, or unfertilized eggs, on August 4
"Many elderly people in rural areas can no longer depend on their children as a result of the great economic and social changes over the past three decades, and the pension system fails to compensate."
Liu Yanwu, a sociologist at Wuhan University, drawing on his recent research which found that the suicide rate among the rural elderly has increased from 100 per 100,000 to 500 per 100,000 in the last two decades
"Children should be taught how to protect themselves, but the deletion of 'acting bravely' can only bring forth selfish citizens."
Tonghuaizu, a user of Chinese microblogging website Sina Weibo, responding to the draft of a new code of conduct for primary and middle school students recently issued by the Ministry of Education, which removed stipulations calling on students to "act bravely, stop violations of social norms and report serious criminal acts."
"Many Chinese have less knowledge of breast cancer and feel that cancer is very threatening, and they associate it with immediate death."
Qian Lu, Director of the Culture and Health Research Center at the University of Houston, drawing on her study which shows that Chinese survivors of breast cancer have a better chance of recovery if they write about their fears and emotions, on August 5