History-Making Cyclist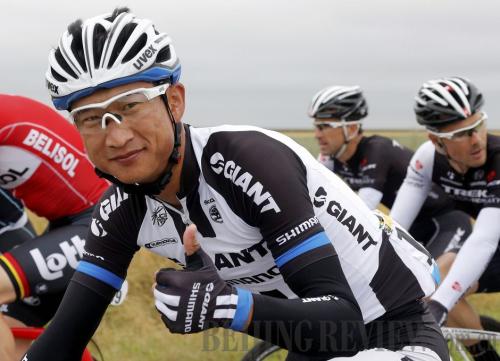 Ji Cheng (FILE)
Despite finishing in 164th position, the last on the final list, 27-year-old Ji Cheng made history by becoming the first Chinese cyclist to ever complete the Tour de France, which ran July 5-27 this year.
Ji is from Harbin in northeast China's Heilongjiang Province. He was disabled at the age of 8 due to a traffic accident, which fractured the base of his skull and left him partially paralyzed. With his mother's help, he learned to walk again. Ji practiced middle-distance running before shifting to cycling in 2002, eventually joining the Dutch Giant-Shimano team in 2007.
He finished 175th, in last position, at the 2012 Vuelta a Espana (Tour of Spain), though sickness prevented him from completing last year's Giro d'Italia (Tour of Italy).
Ji said he hopes to be a pioneer for his countrymen, but it will take more than just him to change the state of cycling in China.
Forerunner in Private Rocket Launch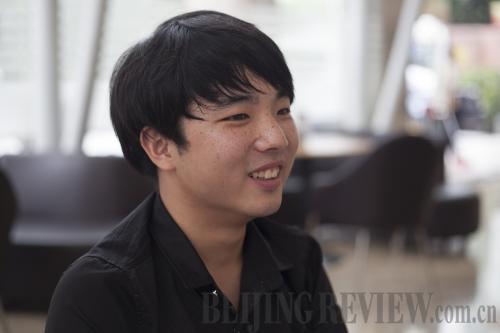 Hu Zhenyu (FILE)
Hu Zhenyu, founder and CEO of China's first private rocket-launching firm Link Space, has recently gained wide attention for his lofty goals.
The Shenzhen-based company aims to put a launch vehicle with a diameter of more than 3 meters into space by 2021. Its business plan also envisions point-to-point sub-orbital manned transportation, which would enable passengers to fly from Hong Kong to California in about 30 minutes.
The 21-year-old Hu successfully launched a sounding rocket to a height of 4 km in a desert in Inner Mongolia Autonomous Region in July last year, the first such rocket made by university students in China. He is from Jiujiang City, east China's Jiangxi Province, and graduated from the South China University of Technology in June.
Despite his ambitious plans, Hu's company is facing serious obstacles, such as inadequate funding and blurry government regulations regarding rocket launches by individuals or civil organizations.
"Around 83 percent of Chinese doctors feel excessive pressure during work hours and more than 90 percent do not get enough sleep."
Lin Hua, a doctor with the Orthopedics Department of Nanjing Drum Tower Hospital, speaking about a survey conducted by several Chinese medical organizations, on July 30
"The next financial center might be in Asia, likely in China. China is becoming more important. In the past, Chinese students went overseas to pursue studies; now some international students choose to come to China to get in touch with the possible next center."
James Warner, Managing Director of Leadership and Talent Consulting at the China branch of Korn Ferry, a global executive search firm, on July 28
"Job security and stability are still the reasons that college graduates favor state-owned enterprises (SOEs). However, private companies are becoming increasingly attractive to job seekers who have three to five years' experience".
Zhao Zifeng, Director of the human resources company ChinaHR.com's Research Institute, drawing on his institute's report that 36 percent of university students and recent graduates consider SOEs the best employers, on July 25
"Among many factors, the change in Chinese people's eating habits over the past few decades is taking its toll on people's health and contributing to increasing weight and obesity problems."
Zhaoping Li, professor of medicine and Director of the Center for Human Nutrition at the University of California, Los Angeles, in a recent interview with China Daily