Centenarian Writer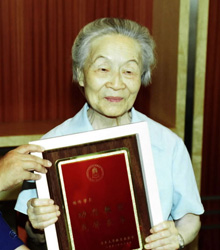 (XINHUA)
Yang Jiang, one of the most renowned female writers and translators in China, celebrated her 103rd birthday on July 17. Her new nine-volume collection is scheduled to be published in August.
Yang was born in Beijing in 1911. She was admitted to the Foreign Language School at Tsinghua University in 1933 for graduate studies. Two years later, she studied abroad with her late husband Qian Zhongshu (1910-98), who went to become one of the most respected literary scholars and writers of his time. The couple studied at Oxford and then the University of Paris.
After returning to China, Yang devoted her time to literature studies and writing. She was the first person to translate Don Quixote from its original Spanish into Chinese, and her edition is still the most widely circulated in China. Yang is also famous for her novel Baptism and the memoir We Three.
Controversial Director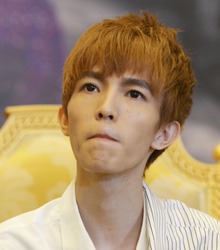 (CFP)
Author-turned-director Guo Jingming has scored another box office hit with his controversial movie Tiny Times 3. It raked in more than 320 million yuan ($51.6 million) within four days of its July 17 release, knocking Hollywood blockbuster Transformers 4: Age of Extinction off the top of China's weekly box office charts for that week.
Born in 1983 in southwest China's Sichuan Province, Guo is a popular young-adult fiction writer. He first became known to readers in 2003 when his novel Ice Fantasy was published. He established his own company in 2006, and began publishing juvenile fiction magazine Zui Novel.
Despite his success, Guo is a polarizing figure. He was involved in a plagiarism scandal a few years ago and has been accused of advocating materialism. The movie series Tiny Times is based on the novels of the same name by Guo and tells a coming-of-age story of four girls from different backgrounds.
"The vicious cycle of violence between Israel and Palestine must stop."
Liu Jieyi, China's permanent representative to the UN, calling for an end to the conflict between Israel and the Hamas movement in Gaza at a UN Security Council meeting on July 22
"The opening and closing ceremonies of this year's Youth Olympic Games will be more frugal than those of all the big sporting events hosted in China before."
Chen Weiya, director of the ceremonies, at a press conference on July 22, before the August 16 opening of the Games in Nanjing, east China's Jiangsu Province
"Even if they are in the farthest corners of the world, we will track them down and bring them to justice to defend the law and safeguard people's interests."
Liu Jinguo, Vice Minister of Public Security, at a July 22 teleconference launching a campaign to root out suspects involved in corruption-related crimes who have fled China
"The game would integrate kungfu with swords and sticks to teach martial arts interactively, so that users don't have to climb Songshan Mountain [in central China's Henan Province] to learn Shaolin kungfu."
Lin Xiaosong, Chairman of Dengfeng Tiandizhizhong Network Development Corp., which manages the Shaolin brand, discussing the 1,500-year-old temple's plan to develop a game app to teach users martial arts on their cellphones