Popular Anchor Detained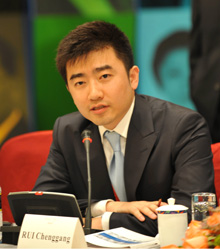 (XINHUA)
Rui Chenggang, a financial news channel anchor with the state-owned China Central Television (CCTV) network, was detained by prosecutors on July 11, according to Century Weekly magazine.
Rui's much-talked-about detention came after the Supreme People's Procuratorate's announcement on June 1 that the channel's Director General, Guo Zhenxi, and producer, Tian Liwu, were both being investigated on corruption charges. The investigation of Rui is reportedly related to Guo's fall.
Rui was born in 1977 in Hefei, east China's Anhui Province. He joined CCTV's English news channel after graduating from China Foreign Affairs University. In 2008, he transferred to the financial news channel.
The anchor has raised eyebrows before, most notably at a news conference on the sidelines of the 2010 Group of 20 Summit. When U.S. President Barack Obama gave reporters from host country South Korea a chance to ask the last question, no South Korean reporters rose. Rui seized the chance, saying: "I'm actually Chinese, but I think I get to represent all of Asia."
First Femal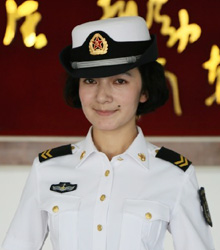 (FILE)
Dilihumal Ablet, who graduated from the Dalian Naval Academy in northeast China on July 11, has become the first female Uygur officer in the People's Liberation Army (PLA) Navy.
Born in 1989 in Kashgar, northwest China's Xinjiang Uygur Autonomous Region, Ablet joined the PLA Navy six months after finishing her undergraduate studies in electric engineering at the Xinjiang University. Due to her outstanding performance during nearly two years' service on China's first aircraft carrier, the Liaoning, she had the rare opportunity to attend a one-year training program at the Dalian academy in 2013. During the program, she completed 25 courses and participated in trainings on warships at sea. With her new skills, Ablet will continue to serve on the aircraft carrier.
"There has to be an active engagement. It cannot be one where one side takes on the role which the other used to play. It cannot be one where you are dividing the world into a G2 [Group of Two]."
Singaporean Prime Minister Lee Hsien Loong, speaking about the China-U.S. relationship at the Future China Global Forum in Singapore on July 17
"There is a possibility that China will host the World Cup in the next 20 years, as its fast-growing economy appeals to FIFA."
Adam Zhang, founder of Beijing-based sports consultancy firm Key-Sports, in a recent interview with China Daily on China's participation in the global soccer event
"More Chinese people are acquiring the adequate language skills to read books as originally written. The increasing internationalization of business also requires business people to read the latest information firsthand."
Roc E, project manager of Blue Fountain, an online bookstore specializing in the selling of imported books in China, on July 15
"It's a better way for the public to supervise court work. When residents leave messages on our microblogs, our judges are required to answer as soon as possible."
Wang Mingda, Vice President of the Beijing High People's Court, commenting on the use of Sina Weibo in Beijing's court system, on July 17