Military Leader Expelled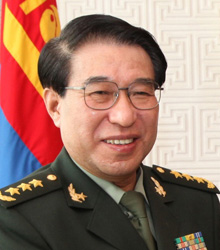 (XINHUA)
Xu Caihou, former Vice Chairman of China's Central Military Commission, was expelled from the Communist Party of China (CPC) following a three-and-a-half month investigation, the Party's Central Committee announced on June 30, one day before the 93rd anniversary of its founding.
Xu is one of the highest ranking officials within the Central Party Committee and the highest in the Central Government to be expelled so far.
The announcement said Xu's case will be delivered to the Supreme People's Procuratorate, which will authorize its military counterpart to handle the case.
An investigation has found that Xu took advantage of his post to assist the promotion of other people and accepted bribes both personally and through his family members. He is also accused of seeking profits for others in exchange for money and properties through his family members.
Xu was born in northeast China's Liaoning Province in June 1943. He joined the army in August 1963, graduated from the Electronics Engineering Department of Harbin Institute of Military Engineering in 1968, and joined the CPC in April 1971. He was Vice Chairman of China's CPC Central Military Commission from 2005-13 and a member of the Political Bureau of the Central Party Committee from 2007-2012.
"Higher job expectations often bring about greater employment pressure, but reasonable and tempered expectations will lower it."
Xiong Hanzhong, Director of the Beijing Youth Stress Management Service Center, drawing on a report from the center that found employment pressure on Chinese graduates has fallen significantly since 2013
"It can reduce corruption related to the preferential policy and reverse the trend of more and more Chinese students studying to get the extra points. But what if students give up developing their talent after they realize that these skills can no longer bring them extra points and put them in better standing on the gaokao?"
Xiong Bingqi, Deputy Director of the 21st Century Education Research Institute, in response on June 30 to the Ministry of Education's tightening of a preferential policy that awards bonus points in the national college entrance exams to students with exceptional abilities in the sciences and sports
"Online lotteries usually account for more than 30 percent of overall lottery sales in developed countries. So it is a market with great potential."
Li Zichuan, an analyst with the Beijing-based Internet consultant group Analysis International, commenting on July 2 on Chinese fans' online gambling during the 2014 World Cup
"Have faith in domestic movies! How can we repeat the 'mistake' of 2012's Lost in Thailand—when we thought it would only bring in 200 million yuan ($320,000)—and ultimately found it was a 1.2 billion yuan ($190 million) movie?"
Zhang Hongsen, Director of the Film Bureau under the State Administration of Press, Publication, Radio, Film and Television, at the 17th Shanghai International Film Festival on June 25