Film Director Awarded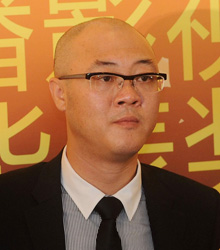 (XINHUA)
Chinese director Zhang Meng won the Special Jury Award for his film Uncle Victory at the 17th Shanghai International Film Festival on June 22.
Zhang is a young Chinese director with Changchun Film Studio Group Corp., who are based in northeast China's Jilin Province. His other film work includes 2008's Lucky Dog and 2011's The Piano in a Factory, along with past skits for CCTV's Spring Festival Gala.
Teen Girl Wows on Gaokao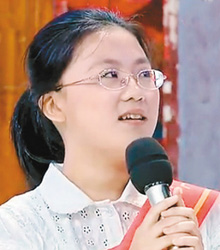 (FILE)
Liu Dingning, a 19-year-old girl from Benxi, northeast China's Liaoning Province, recently came into the spotlight after scoring the highest college entrance exam grade in her province twice.
Last year, Liu racked up 668 points plus 10 awarded points in the national college entrance exam, or gaokao, making her the best performer among liberal art students in the province. She was enrolled in the Faculty of Arts at Hong Kong University and was offered a 720,000 yuan ($117,648) scholarship in July 2013, but quit about 40 days after starting. She returned to her native city in October to prepare for the 2014 gaokao with the goal of undertaking "more pure Chinese study" at the Department of Chinese Language and Literature of the prestigious Peking University.
This year Liu attained the highest score among liberal art students in the province once again with 666 points, far outnumbering Peking University's average benchmark in the province.
Her story aroused debate among the public. Some say she is foolish in giving up a place at the reputable Hong Kong University, which is often ranked higher than Peking University, but many support her decision to follow her heart. Liu Dingning
"Through the food safety law amendment, the country expects to impose the harshest civil, administrative and criminal penalties on offenders and the strictest punishment on supervisors who neglect their duties."
Zhang Yong, head of the China Food and Drug Administration, commenting on a revision to China's Food Safety Law submitted to the Standing Committee of the National People's Congress, the country's top legislature, on June 23
"Public bicycles make it easy to reach the subway or bus stations. They make it possible for people to choose public transport and leave their cars at home."
Mao Baohua, Executive Director of the China Transportation Research Center at Beijing Jiaotong University, commenting on the public bike increase in Beijing, on June 24
"Every year around 60,000 Chinese citizens travel abroad to seek medical services ranging from anti-aging therapy to cancer screening and chronic disease treatment to giving birth. This phenomenon could gain even more momentum in the foreseeable future."
Yan Jian, CEO of the Shanghai Medical Tourism Products and Promotion Platform, commenting on an increasing number of well-heeled Chinese flying abroad in search of better medical services, on June 24
"Of China's neighboring countries, South Korea is the one that makes the most vigorous effort to attract Chinese tourists. Their endeavors can be seen in the Chinese language bulletins and guideboards and with the Chinese-speaking shop assistants everywhere."
Zhang Jia, a travel project manager who offers travel guides from different countries, on June 24