Crowned Pair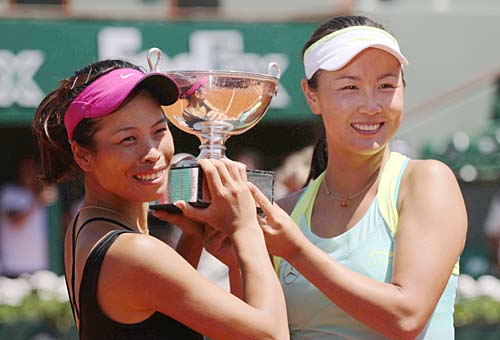 (XINHUA)
Chinese tennis players Peng Shuai (right), from the mainland, and Hsieh Su-wei, from Taiwan, won their second Grand Slam title together by defeating Sara Errani and Roberta Vinci of Italy 6-4, 6-1 in the women's doubles final at the French Open on June 8.
Peng and Hsieh also won the women's doubles title at Wimbledon and the WTA Championships in 2013. In February, Peng clinched the top spot in the global doubles rankings, making her the first Chinese player to become No.1 in either the singles or doubles in rankings history.
Peng and Hsieh, who were born just four days apart in January 1986, played tournaments together as juniors and teamed up in 2008 after turning professional.
Young Heroes
| | |
| --- | --- |
| | |
| Yi Zhengyong (XINHUA) | Liu Yanbing (XINHUA) |
High school graduates Liu Yanbing (right) and Yi Zhengyong from Yichun, Jiangxi Province, were unable to sit the national college entrance exam on June 7-8 due to injuries sustained on May 31 while trying to stop a man attacking passengers with a knife on a bus.
Liu suffered serious injuries to his back and head while trying to take the knife from the attacker. Yi suffered a wound on one hand.
Yichun Government has given "Good Samaritan" awards to both, and the provincial education department decided to organize a separate college entrance exam for them after they have recovered from their injuries.
More than 10 universities including the top Tsinghua University said that they would be interested in enrolling the two students.
"We welcome Mandarin Chinese teachers and Chinese engineers to teach in Belarus. We hope to cooperate with Chinese universities in both planning the curriculum and teacher training."
Natallia Baranava, President of Minsk State Linguistic University in Minsk, Belarus, at a two-day International Conference on Language in Suzhou, Jiangsu Province
"The increase of Chinese college graduates choosing to start their own businesses has resulted from government support in recent years, such as reduced intervention, the offer of micro-loans and cuts in taxes and fees."
Chen Yu, Vice President of the China Association for Employment Promotion
"Modern Danish design, environmental protection and green development concepts are also very popular in China. Good bilateral relations, cultural exchanges and complementarities made Copenhagen a natural choice to host the first Chinese Culture Center in a Nordic country."
Li Jinsheng, Cultural Counselor of the Chinese Embassy in Denmark
"Improving the retirement system for members of the Chinese Academy of Sciences and Chinese Academy of Engineering and breaking the current thinking on life tenure could be mutually reinforcing."
Deng Ziqing, commentator of newspaper Changjiang Times