Author Acknowledged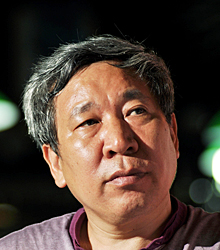 (FILE)
Chinese writer Yan Lianke won the Franz Kafka Prize on May 27, becoming the first Chinese author to win the award.
The Franz Kafka Society, the co-sponsor of the award, summarized Yan's works as "strongly satirical with a tinge of parody."
Born in 1958, Yan started writing in 1978. Often called a "master of magic realism," but he coined the term "mystical/spiritual realism" to describe his own works. Yan's works have been translated into more than 20 foreign languages.
The Franz Kafka prize was launched in 2001 to honor the German-language writer Franz Kafka. The award is also seen as foreshadowing the Nobel Prize in Literature.
Millionaire Sentenced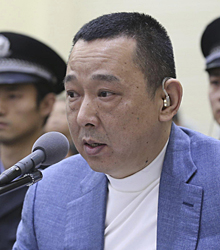 (FILE)
A court in central China's Hubei Province announced the verdicts for the first wave of convictions of the alleged organized crime ring led by former mining tycoon Liu Han. Thirty-six members, including Liu Han stood trial, with Liu receiving a death sentence on May 23.
Liu Wei, Liu Han's brother, also received a death sentence. The two brothers were convicted of organizing and leading a criminal organization as well as of murder. The court will confiscate all of their personal property.
Liu Han, 48, was the board chairman of Hanlong Group, the biggest private enterprise in Sichuan Province. He ranked No. 142 on the 2012 Forbes China Richest List with an estimated fortune of $855 million, though the total assets of his crime ring was calculated by the investigation to be worth 40 billion yuan ($6.39 billion).
"The meeting between leaders from the two sides of the Taiwan Straits is our own business and there is no need to consider such a meeting at international events."
Ma Xiaoguang, Spokesman of the State Council Taiwan Affairs Office, at a press conference on May 28
"When Western luxury brands first entered into the Chinese market, they just needed to build up brand awareness as soon as possible in order to make money. But now the honeymoon period is over. They need to cater to the world's most discerning consumers."
David Roth, vice president of a United States-based advertising association, talking to China Economic Weekly
"In face of the cases of astonishing juvenile violence, we cannot simply blame and punish our children. We need to observe the environment these children grow up in and how they were treated by their school, family and society."
Tao Sha, an associate psychology professor of Beijing Normal University
"During every family get-together, we often see parents chatting or playing games on their smart phones. This habit will be copied by children as they are most likely to pick up behavioral habits from their parents."
Liu Wei, a 33-year-old father of a 7-year-old son