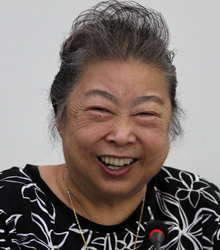 (CFP)
Renowned erhu performing artist Min Huifen, 69, passed away in Shanghai on May 12.
Min began learning erhu, a traditional two-stringed Chinese instrument, at the age of 8 and later went on to win a national competition at 17.
During her career, Min performed extensively both in China and abroad and released more than a dozen albums. Min is known as an exceptional virtuoso who used her technical prowess to forge her own style that featured a unique blend of many genres of traditional Chinese music, such as Peking opera.
Chinese General Visits U.S.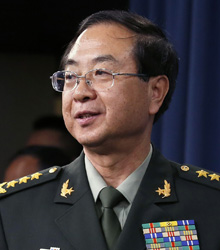 (CFP)
Fang Fenghui, Chief of the General Staff of the Chinese People's Liberation Army (PLA), paid a visit to the United States on May 13, starting with a tour of an American aircraft carrier. Shortly after his arrival in San Diego, Fang visited the nuclear-powered USS Ronald Reagan at a base of the U.S. Third Fleet, escorted by the head of the U.S. Pacific Command, Admiral Samuel Locklear.
As an effort by the two countries to improve military ties, Fang's visit would feature a tour of the National Defense University in Washington D.C., a meeting with his U.S. counterpart Martin Dempsey at the Pentagon and a visit to the U.S. State Army Forces Command in North Carolina, according to the published schedule.
Fang, who has served in the PLA since 1968, was appointed to his current position in 2012.
"[We] hope that everyone can see clearly the nature and intention of violent terrorist groups and support China's effort to combat terrorist activities, safeguard social order and stability, and protect people's lives and property."
Foreign Ministry spokeswoman Hua Chunying, commenting on a video released by the Turkistan Islamic Party that claimed responsibility for a deadly terrorist attack at a railway station in Urumqi, capital of Xinjiang Uygur Autonomous Region, at a press briefing on May 14
"In China the salaries for college graduates are even lower than those of the migrant laborers and nursery-maids. This indicates that there is something wrong with our production structure. We should put more emphasis on the quality instead of quantity of the jobs we create."
Eminent economist Wu Jinglian, research fellow of the Development Research Center of the State Council
"China's status as an upper middle-income country based on its per-capita GDP doesn't mean that its resident income level is above the world average, despite a close link between the two indicators. Without proper distribution policies, there could be a deviation between them."
Su Hainan, Vice Director of China Association for Labor Studies, talking to China Economic Weekly
"The [popularity of] Chinese language and culture is growing very quickly [in America]. There is perhaps no relationship that would be more important for the future in our world than for China and the United States to begin to more deeply understand one and another."
David Coleman, President of the College Board of the United States, talking to Xinhua News Agency