Scientist Recognized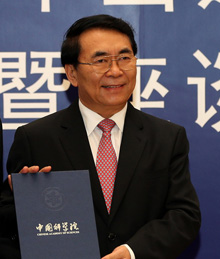 (XINHUA)
Bai Chunli, President of the Chinese Academy of Sciences, was elected to become one of the 10 new foreign members of the United Kingdom's Royal Society on May 1. Foreign members are elected for life through a peer review process on the basis of their excellence in the sciences. There are currently around 140 foreign members.
In a Royal Society statement, Bai, born in September 1953, was described as one of the pioneers in the field of nanoscience and as having outstanding scientific achievements as well as a leadership role in China's scientific community.
Generous Businessman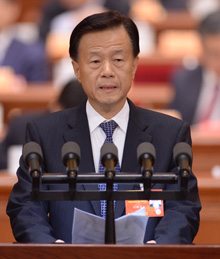 (XINHUA)
Xu Rongmao, founder and Chairman of Shanghai-based Shimao Property, has been ranked as China's top philanthropist by an annual list compiled by China Philanthropy Times.
According to the list, which was released in late April, the 64-year-old Fujian-born real estate billionaire donated a total of 370 million yuan ($59.7 million) during 2013. For years, Xu's donations have funded the prevention and treatment of HIV-AIDS, construction of new hospitals and schools as well as scholarships to children living in shantytowns across China.
"Education on ethnic unity should be part of educational curricula. We will create conditions that let children and youths from different ethnic groups play together, receive education together and grow up together."
Zhang Chunxian, Secretary of Xinjiang Uygur Autonomous Regional Committee of the Communist Party of China, at a conference on May 6
"One of the key things about the exhibition is accessibility. We want to make sure people at every level of experience with Chinese calligraphy can come here and feel comfortable as well as learn something."
Joseph Scheier-Dolberg, Assistant Curator at the Department of Asian Art at the Metropolitan Museum of Art, and the organizer of Out of Character: Decoding Chinese Calligraphy, an exhibition that opened in New York City on April 29
"Liquor has a long history in China, carrying the essence of traditional culture and the rich emotions of the Chinese people."
Li Zuoxun, Vice Mayor of Guiyang, capital of southwest China's Guizhou Province, after signing a contract for his city to host the 2015 Concours Mondial de Bruxelles Spirits Selection, an international liquor competition, on May 2
"I am honored to be the president of the jury for the Golden Goblet Award and to be able to work with prominent figures from the international film industry. I will lead the jury members to try and find films that touch people's hearts."
Chinese actress Gong Li, after being named president of the jury for the main award at the 17th Shanghai International Film Festival on May 5