Emergency Appointment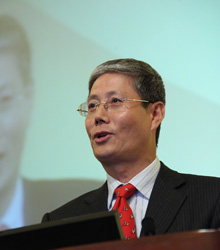 (XINHUA)
China Resources (Holdings) Company, one of China's largest state-owned conglomerates, named Fu Yuning as its new chairman, replacing Song Lin, who is under investigation and was dismissed from his post. The company made the decision during a meeting in Hong Kong on April 23.
Born in 1957, Fu obtained his Ph.D. in Offshore Engineering from Brunel University in Britain. He was the former chairman of the state-owned China Merchants Group Ltd. and a chairman of China Merchants Bank. China Resources owns a group of companies ranging from real estate to gas.
Star Makes Comeback
(XINHUA)
China's national swimming team lifted the ban on competing and endorsement on Olympic champion Sun Yang on April 24, who was suspended from the national team for months after a feud with his coach and being caught driving without a license.
Sun will be trained under former head coach Zhang Yadong after his long-term coach, Zhu Zhigen, resigned due to health reasons.
The super star is training for the National Championships, which will be held on May 12. After training with the national team for just one month, Sun has lost 11 kg and is back in fighting form.
Sun, 22, swept the 400-, 800-, and 1,500-meter freestyle golds at the Barcelona World Championships in 2013 and won two gold medals at the 2012 London Olympics in the 400- and 1,500-meter freestyle.
"Some government positions draw no applications, such as in remote areas or those requiring specialist skills, whereas applications flood in for positions with lower hukou, Chinese household registration, and educational requirements."
Li Zhong, a spokesman for the Ministry of Human Resources and Social Security, on progress of this year's provincial recruitment programs for civil servants
"The increasing pressure on the patent application processing each year shows how big the industry is going to be, and the industry is far from realizing its potential."
He Hua, Deputy Director of the State Intellectual Property Office, at an intellectual property symposium held by the All-China Patent Attorneys Association on April 26
"Delaying retirement can increase individuals' net income in the labor market to offset the net living expenses increases brought by longer life expectancy, so that the financial balance during a person's life cycle can be restored."
Zhao Yaohui, a professor of the National School of Development, Peking University, when revealing his study concluding that the young generation would have to devote 41 percent of their compensation to supporting retirees by 2050 if China doesn't raise the compulsory retirement age
"I have been an archivist for more than 20 years. However, after reading these documents and the bloody scenes they depict every day, I have begun to suffer from enormous psychological pain."
Zhao Yujie, a senior archivist at Jilin Provincial Archives, on his experience of organizing and translating documents on biological experiments on humans carried out by the Japanese army during its occupation of northeast China in World War II