Rumor Spreader Sentenced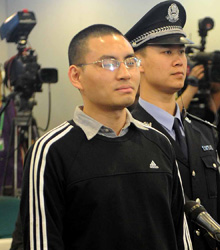 (XINHUA)
Internet rumormonger Qin Zhihui, known by the handle Qinhuohuo online, was sentenced to two years on defamation charges and a further year for disturbing the peace.
Qin was found guilty of spreading rumors about several celebrities as well as the former Ministry of Railways, via Sina Weibo, China's Twitter-like microblogging platform, from 2012 to 2013. He is the first person to appear in court on rumor mongering charges.
International Recognition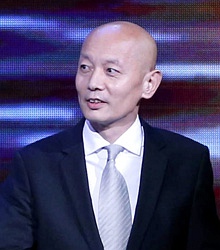 (XINHUA)
Chinese actor Ge You received the Chevalier medal in the Order of Arts and Letters of France in Beijing on April 17.
A native of Beijing, the 57-year-old actor is one of the most recognizable acting personalities in China and has played major comedy roles that have made him a well-known name throughout China.
Ge won the Best Actor Award at the 1994 Cannes Film Festival for his role in the Zhang Yimou movie To Live, making him the first Chinese citizen that has obtained this honor.
"HSBC's latest survey shows that parents from the Chinese mainland devote 37 percent of their economic support to children on educational expenses. About 97 percent of parents expect their children to receive higher education and 74 percent expect their children to enter postgraduate programs. This is higher than global averages."
Wang Haojing, a senior executive of the retail banking and wealth management department of HSBC Bank (China)
"Good writers are thinkers, like Gabriel Garcia Marquez, who was an excellent storyteller and shared his own way of looking at life."
Renowned writer Liu Zhenyun at a forum at Huazhong University of Science and Technology, commenting on the death of Colombian writer and Nobel laureate Gabriel Garcia Marquez
"China intends to approach World Bank's standard for high-income countries or even become one by the end of 2020."
Xu Lin, Director of the Development Planning Department of National Development and Reform Commission (NDRC)
"The reform of the country's household registration system will focus more on former farmers in urban areas with better basic services. Urban residents without local household registrations will also be provided with improved social welfare and public services."
Xu Shaoshi, Minister of the NDRC, addressing a forum on China's urbanization in Shanghai on April 19
"The patent application structure was further improved in the first quarter of 2014, as nearly 40 percent of applications were for inventions."
Shen Changyu, head of the State Intellectual Property Office (SIPO)
"Since the government is unlikely to roll out consumption stimulus policies this year, economic growth will mainly come from the demand for better quality of living brought by an income growth and a population increase triggered by the easing of the one-child policy."
Zhao Ping, Deputy Director of the Department of Consumption Economics at the Chinese Academy of International Trade and Economic Cooperation