Tennis Champions
(XINHUA)
Peng Shuai (right) and Hsieh Su-wei won their first Grand Slam title with a 7-6 (1), 6-1 victory on July 6 over Australian duo Ashleigh Barty and Casey Dellacqua in the women's doubles final at Wimbledon.
Peng gave the Chinese mainland its first doubles title at a major in seven years while Hsieh became the first player from Taiwan to win a Grand Slam title.
The pair, who are both 27, played a few tournaments together as amateurs but ended their partnership after turning professional. The duo reunited at the end of 2008 and won their first 11 matches, claiming titles in Bali and Sydney.
Businessman Eyes Film Horizon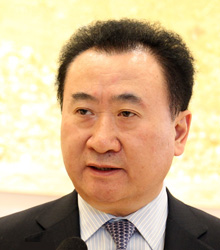 (XINHUA)
Wang Jianlin, Chairman of Dalian Wanda Group, is expanding the company's investment in the film market. Wanda Group has established a $400 -million fund to invest in foreign films. It has signed a framework agreement with Sony Pictures Entertainment and Walt Disney Pictures to release English films around the world.
In 2012, Wanda Group purchased AMC, making AMC the biggest cinema operator in the world with nearly 7,000 screens, accounting for 10 percent of global market share. It is negotiating to purchase several European and Australian cinemas.
Wang became chairman of Wanda Group in 1989. By the end of 2012, Wanda had made inroads into four industries including real estate, high-end hotels, tourism and chain stores with an annual revenue of 142 billion yuan ($23.1 billion).
"People now find their partners without very much direct supervision from their parents. If it's a bad relationship, or a bad marriage, people are much freer to leave and start again."
Deborah Davis, a sociology professor at Yale University, who studies contemporary Chinese society, in an interview with Yale's MacMillan Center on family and marriage issues in China
"It was a nightmare of pain that can never be cured."
Cen Honggui, an 89-year-old survivor of the Nanjing Massacre. China has identified 10 more living survivors of the 1937 massacre, sources with the Nanjing Massacre Memorial Hall confirmed on July 6
"Students undergoing cosmetic surgery should not be criticized, but any beauty without inner qualities is not true and excessive pursuit of beauty may lead to personality problems."
Feng Guilin, a researcher with Hubei Academy of Social Sciences, on July 4. Following the end of college entrance exams on June 8, plastic surgeons reported a staggering rise in the number of young people going under the knife, Changjiang Daily reported that day
"Although the best season to visit Xinjiang has arrived, tourist numbers have dropped around the region due to recent terrorist attacks."
Guli Ablim, Deputy Director of the Xinjiang Tourism Bureau, on July 8