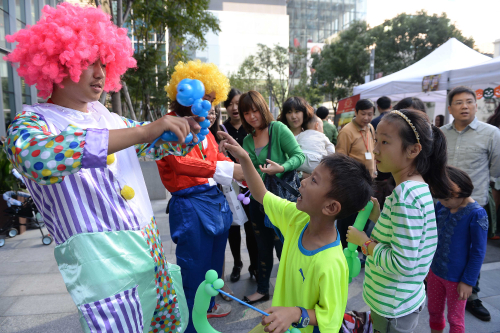 GUESS WHAT IT IS: The Wang brothers make balloon characters for kids in Shanghai on October 25, 2014 (CFP)
A crystal ball hovers in the air as if by magic while performer Lu Xinyi moves his hands and arms around the ball to demonstrate that no hidden strings or supports keep it in place. The ball glitters with the reflection of neon lights along Dingyi Road, Jing'an District, one of the most bustling areas in Shanghai.
Lu has performed his routine every Tuesday, Saturday and Sunday since October 2014. Not far from Lu, two men, dressed in brightly-colored clown costumes, make balloon animals. They inflate a number of brightly colored balloons, twisting and turning them and within seconds, well-known and loved characters such as Micky Mouse or Spider Man appear.
Lu is a 33-year-old Shanghai native, and the balloon artisans are brothers Wang Shiping and Wang Luping. They are among the first eight street artists to receive official certification for street artists issued by the Shanghai Performing Art Association.
A step forward
Lu went to Switzerland for college after high school in Shanghai. While in Switzerland, he was captivated by street performers and learned his crystal ball routine and other magic tricks with great passion. His idol is David Copperfield.
"Copperfield's performance is spellbinding. He started his career on the streets," said Lu, who decided to continue the show in his hometown Shanghai. "I hope one day I could be a magic performer as awesome as he is."
But things were not as optimistic at first. "It was hard to define what I am," said Lu. "Many people treated me like a beggar and I had to keep an eye out for city management officers, as performing in the streets was still illegal here."
In the eyes of Lu, which reflected clearly in his crystal ball, Shanghai should be more liberal and open to reflect its status as an international metropolis. "Street artists make a city more vivid and alive," said Lu.
Luo was the first to call for a space for street artists in Shanghai, first proposing the idea of legalizing street performances in 2004.
"Accepting pity or accepting appreciation is the dividing line between begging and street performance," said Luo, Vice Chairman of China Theater Association.
For a long time, Shanghai regulations prohibited anyone from undertaking commercial activities in public places. Street performers, unfortunately, belonged to this group, and for a long time they faced the threat of being expelled by city management officers.
It took 10 years to change this. By the end of October 2014, after rounds of test, eight street artists were selected from more than 100 as the first batch with official certificate.
Shanghai made this pilot roam. "It is true that some street artists are beggars," said Luo. "But there are still some that purely want to perform for the public and we need to make a stage for them," said Luo.
The first batch of certificates were issued on October 25 last year. "The certificates may expire. They need to be updated every month, every three months or every half year. We will check on their routine and whether their image is suitable to be on the street," said Wei Zhi, Chairman of the Shanghai Performance Trade Association.
"If someone comes up to me, I can tell him I am certified. I am a real artist. I really enjoy performing on the street. The street is my stage. We perform for everyone passing by," Lu said.
The specialties for the first eight include handicrafts, singing and magic. The Shanghai Performance Trade Association selected them over the past year.
"We are lucky to be in the first group of the certificate holders," said the Wang brothers.
The two brothers came to Shanghai in 2002, first working as waiters in a restaurant and hotel, but their love for balloon art eventually led them to pursue it as a career. In 2009, they quit their jobs and bought a pack of "magic" balloons worth 18 yuan ($ 2.92), wore coats with many pockets and started their new but arduous life as full time street performers.
Their dream found difficulty in the attempt to become reality. On the first day they performed in the street, an officer confiscated all their balloons. The brothers, since then, lived in constant fear and have been involved into a battle of wits and strength. Whenever the Wangs performed on the streets, they had to be prepared to stop and leave before officers reached them.