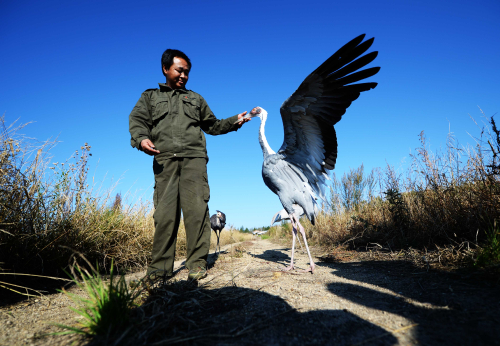 INTO THE WILD: Zhang Bin, an animal feeder in Dazhanhe National Nature Reserve in Heilongjiang Province trains a crane how to survive in the wild on September 20, 2014 (WANG KAI)
Winter is poetic in Xixi National Wetland Park, located in Hangzhou, capital of east China's Zhejiang Province. Tall reeds crowned with fluffy white flowers dip and sway in wind, with bits and pieces drifting off like flurries.
Lying 5 km away from the famous West Lake, the wetland park covers an area of 10 square km, 70 percent of which is made up of water bodies, such as fish ponds, rivers, and lakes.
The park boasts both natural beauty and places of historical interest. Four to five thousand years ago, the area was low-lying land inundated in summer by water from nearby Tianmu Mountain. More than 1,000 years ago, a town was formed.
Some literati and hermits used to reside in the area, leaving behind poems and sculptures testifying to their talent. For centuries, farmers have fed fish and silkworms and grown vegetables and teas in the vicinity.
In recent decades, urbanization in the area has led to a dwindling of the wetland area.
Local government took measures to restore the wetland. The area was designed into a wetland park. Part of it features activities that are part and parcel of daily life in a water village, such as silkworm feeding and silk production. In May 2005, the park was opened to the public. A daily limit of 3,000 visitors has been imposed to protect the environment.
Wetland accounts for 10.9 percent of Zhejiang's total area. In December 2014, the province published a list of 32 important wetland parks and reserves in the province. It set a goal of putting 60 percent of its natural wetlands under protection by the year 2017.
China is ranked fourth in the world in wetland surface area, with 10 percent of the world's wetland areas, according to World Wildlife Fund for Nature (WWF).
Wetlands are essential for maintaining biodiversity, controlling floods and removing pollutants, as well as rice and fish production, transport, and hydropower generation.
Wetland covers 5.58 percent of China's total land area, half of which is located in the Tibet and Inner Mongolia autonomous regions, and in the provinces of Qinghai and Heilongjiang, according to the second nationwide wetland resource investigation conducted from 2009 to 2013, the results of which were published in January 2014.
Between 2004 and 2013, the country's wetlands declined by 8.82 percent, with natural wetland area accounting for 87.08 percent of the total wetland area, down by 9.33 percent, the national study revealed.
Enhanced protection efforts
In the 1970s, China's first wetland nature reserve was created. China joined the International Convention on Wetlands in 1992 and designated seven wetland sites as Wetlands of International Importance.
In 2000, a National Wetland Conservation Action Plan for China was released, which spelled out guidelines for the conservation and wise use of wetlands in the future.
China's leadership is committed to promoting ecological progress and sustainable development. Wetland conservation and management have been listed on the national agenda.