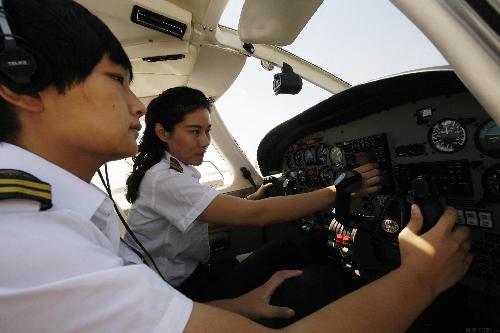 LIKE A BIRD: Sun Yuan (back), a girl from Xinjiang Uygur Autonomous Region, has a license for general aviation flight (XINHUA)

China is expected to allow private planes to enter low-altitude airspace—below 1,000 meters—without military approval from 2015, according to an aviation meeting held in Beijing on November 21-22, 2014.

The country will deepen its reform of airspace management to give a boost to the aviation industry, Vice Premier Ma Kai told government and military authorities at the meeting. He also urged improvement of the legal framework governing low-altitude airspace and streamline approval procedures.

According to a statement published after the meeting, an aviation law—which has been called for by many industry insiders for a long time—has been included in the legislative agenda and is expected to enter process in 2015.

China's low-altitude airspace is controlled by the Air Force and the Civil Aviation Administration of China (CAAC). Private flights currently need to go through a time-consuming and complicated approval procedure to fly in low-altitude airspace, which has hampered demand for private jets.

In November 2010, the State Council, China's cabinet, and the Central Military Commission of the Communist Party of China jointly released an order to open up part of the country's low-altitude airspace for the first time.

Since then on, a pilot project that rolls back restrictions on low-altitude airspace use for general aviation flights has been underway across the island province of Hainan and nine other cities—Changchun, Guangzhou, Tangshan, Xi'an, Qingdao, Hangzhou, Ningbo, Kunming and Chongqing. This trial will go nationwide in 2015, according to the meeting.

In 2013, central authorities initiated new flight approval procedures, under which general aviation flights no longer need advance applications and approvals from authorities except in special circumstances such as flying through restricted zones and conducting aerial photography of military facilities.

The moves aim to promote the country's general aviation industry, which is poised to soar to great heights if given the chance to spread its wings, insiders say.

Typically, general aviation refers to relatively small, privately owned—and often business-related—aircraft, in contrast to commercial airliners or military planes.

"General aviation industry in China is entering a golden age. It is likely to become China's third leading industry along with automobiles and high-speed trains," said Wang Jian, Deputy Director of the CAAC's southwest management bureau.

According to ACCA figures, China has a total number of 226 general aviation companies and another 198 enterprises are in the process of being established.

The number of registered civilian aircraft in China is 1,786, but the CAAC estimates that this number will rise to 5,000 by 2020, with an annual growth rate at around 19 percent, and the potential aviation market demand will reach $15.5 billion in value term, representing a new economic engine, said Wang Zhiqing, Deputy Director of the CAAC.

Training pilots

One of the direct results from the further opening of the low-altitude airspace is the rising demand for general aviation pilots. According to the CAAC, China will need to train about half a million civilian pilots by 2035 to meet the market's demand, up from just a few thousand at present.

"It takes time to solve these problems if we want to ensure the sector's safe, efficient and steady growth," said Wu Jingkui, Chairman of the Asian Business Aviation Association.

"I do not expect to see the industry boom suddenly," Wu said. "Everything, from pilot training to researching the business, takes time."

Noticing the shortage of pilots, some general aviation operators have started planning to train pilots themselves.

Bi Wei, Chairman of CITIC Offshore Helicopter Co. Ltd., the largest helicopter operator in China, said the company has been given approval to train pilots and technicians, and it will build a training center and schools.

"As the general aviation industry develops, the training business will be a huge market," Bi said.