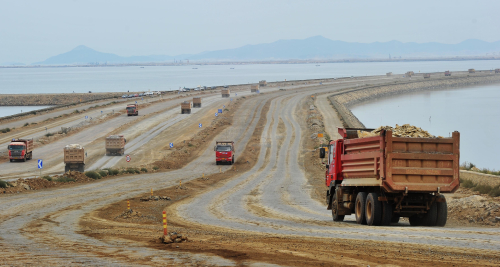 GRAND AMBITION: A land reclamation project underway in Dalian, Liaoning Province, for the construction of the biggest on-sea airport in the world (XINHUA)
Numerous construction projects are changing the shape of China's 18,000-km mainland coastline. In response to exploding demands for land amid rapid industrialization and urbanization over past decades, the country has looked toward the sea for an answer.
In 2013, a total of 200 square km of land were reclaimed from the sea and 92 percent of the reclaimed land was used for construction purposes, according to statistics from the State Oceanic Administration (SOA).
SOA figures also show that from 2002 to 2012, more than 1,100 square km of land were reclaimed from sea—mainly for infrastructure, real estate and tourism.
Witnessing the craze, experts warn that it may bring irreversible environmental damage and cause unexpected geological disasters.
"Land reclamation takes meandering coastlines and replaces them with straight lines, destroying mangrove forests and shallows in the process. It may bring benefits in the short term, but in the long term it can cause ecological disasters such as droughts, decreasing fish stocks and a higher susceptibility to flooding," said Jiang Gaoming, a professor at the Institute of Botany of the Chinese Academy of Sciences (CAS).
Ma Jun, Director of the Institute of Public and Environmental Affairs, a Beijing-based non-governmental organization, also warned that uncontrolled land reclamation does more harm than good to the country.
"Stocks of marine species, like fish, coral and mangroves, have all declined by various degrees over the past decade. China's natural coastline has been shrinking as a result of land reclamation in recent years," Ma said.
Fear over possible ecological destruction has led the Chinese Government to strictly control the mania of land reclamation from the sea.
All coastal provinces and municipalities now take responsibility for maintaining their local ecosystems, according to a press release posted on the website of the Ministry of Land and Resources on October 6. Local authorities are also required to cooperate with other departments to reasonably use and protect the ocean and its resources, scientifically define and draw ecological "red lines," as well as create protected zones and draft policies for these zones.
Land craze
Land reclamation is popular in countries and regions facing a shortage of land but having an abundance of coastline. The Netherlands was one of the first countries to practice land reclamation. Japan, Singapore, as well as China's Hong Kong and Macao have also reclaimed land from the sea.
After 1949, there have been several significant surges in land reclamation projects in China.
Reclamation during the 1950s was mostly aimed at sea salt production. During the 1960s-70s, coastal cities reclaimed land to expand agricultural cultivation. Later, during the 1980s-90s, tidal flats were reclaimed again, this time in order to establish fish farms on the waters' edge. After 2003, coastal cities began to enclose tideland once more for the development of industrial zones, chemical industries and coastal tourism.
According to research, China's total reclaimed area increased at the speed of nearly 240 square km per year on average between 1949 and 2000, totaling 12,000 square km at the end of the millennium. During 2001-05, annual reclamation increased to nearly 300 square km, and even this was not the end of it. In the following five years between 2006 and 2010, coastal cities expanded land reclamation to 700 square km per year—an area equivalent to the size of Singapore.
Today, reclamation projects can be found almost everywhere along China's coastline.
"Due to soaring land prices, many coastal cities like Dalian in northeastern Liaoning Province, Tianjin Municipality in the north and Sanya in south China's Hainan Province have turned their eyes to the ocean, and built airports or factories on reclaimed land," Ma said.
The Dalian Government plans to invest billions of dollars to build the world's biggest on-sea airport over the next five years via sea reclamation, the Dalian Daily reported.
Tianjin has been reclaiming land from the sea for many years and is currently working on creating a total of 320 square km of land from the Bohai Sea to build an international shipping center, according to news portal Chinanews.com. The Bohai Sea, which covers around 80,000 square km, is China's only semi-enclosed inland sea, and is surrounded by Liaodong Peninsula, the North China Plain and Shandong Peninsula. 
The most famous example, though, is the Caofeidian Project in the city of Tangshan, north China's Hebei Province. In the 10 years since 2003, the project reclaimed more than 210 square km of land from the Bohai Sea. The area of reclaimed land is still growing.
Caofeidian used to be a small sand island 18 km from the shore. More than 1,400 years ago, a fleet captained by Emperor Taizong of the Tang Dynasty (618-907) passed near the island. One of the emperor's favorite concubines, called Cao, died from illness during the journey and was buried on the island. After her burial, the island remained mostly untouched in its natural state. However, later explorers discovered that the island's geography was suitable for the construction of a large deep-water port, which promised to be very lucrative.