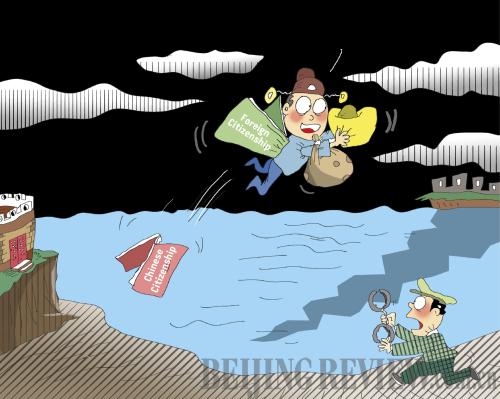 (CFP)
In 2013, a report said more than 100 skilled Chinese workers living in Australia had received "green cards" from the Australian Government due to their superior welding skills and settled down in the country. However, while they obtained the citizenship of Australia, many of them still hold a Chinese hukou, or household registration.
On August 6, one of the workers was required to cancel his Chinese citizenship, as dual citizenship is not allowed in China.
Cases of dual citizenship are common in China now. From January 2013 to June 2014, a total of 1.06 million Chinese with dual citizenship were required by the Ministry of Public Security (MPS) to cancel their Chinese hukou, according to the Legal Weekly.
"But the current Nationality Law in China has no compulsory article to demand people to cancel their hukou in China after taking foreign nationality," said Song Quancheng, Director of Institute of Immigration Studies at Shandong University. He believed this is one of the main causes of the chaotic citizenship situation in China.
It may also be because of the relaxed policies, according to Kong Yang, a police officer in Fengtai District in Beijing. Kong recalled the policies of the 1980s and 1990s as extraordinarily strict. In 2003, the MPS issued a notice allowing those who stayed overseas for more than one year to keep their hukou, but those who settled down overseas were forced to give it up. "The measure of 2003 in fact provides operation space for those who moved abroad to hold dual citizenships," Kong said.
In light of such a chaotic situation, China has strengthened its control over the issue. The MPS launched an online tip-off platform regarding hukou problems on July 15. Whistle-blowers are encouraged to report about dual citizenship.
Anti-corruption consideration
In many analysts' eyes, anti-corruption is a major motive behind the MPS' tighter control over dual citizenship.
"The control on dual citizenship is a heavy blow to 'naked officials' whose family members have emigrated overseas and properties transferred too. Some officials themselves may even have dual citizenship as well. This has become a new form of corruption," said Ren Jianming, Director of Beihang University's Clean Governance Research and Education Center.
In 2013, Zhang Shuguang, former head of the now defunct Ministry of Railways' Transportation Bureau and deputy chief engineer, was indicted for taking bribes worth 47.55 million yuan ($7.76 million). The public was also appalled at Zhang's huge number of properties and luxurious home in the United States. Zhang was not the only official with foreign-based properties.