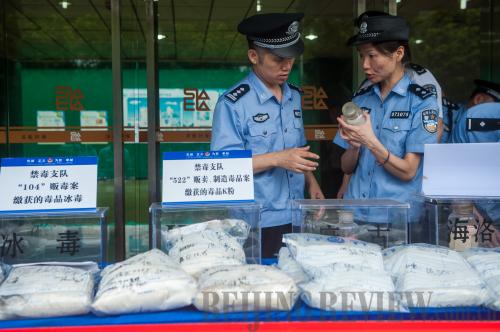 SEIZED: Drugs seized by the police are shown to the public before they were destroyed in Shenzhen, Guangdong Province, on June 25 (MAO SIQIAN)
Chinese authorities issued guidelines for the country's anti-narcotics campaign on July 6, pledging to incorporate this daunting task into the country's national security strategy.
Jointly released by the Communist Party of China (CPC) Central Committee and the State Council, China's cabinet, the guidelines call for a "people's war" to stop the spread of drugs. According to it, the number of drug users should grow at a much slower rate by 2020 and a more efficient drug rehab system will be in place by then.
"It is the first time that provisions for narcotics have been put forward by the CPC Central Committee and the State Council," said Liu Yuejin, Director of the Narcotics Control Bureau with the Ministry of Public Security (MPS).
Liu said that the document comes as a response to the severe drug situation at home and abroad.
According to official statistics, China now has 2.58 million registered drug users. It was also estimated that narcotics caused a direct economic loss of more than 100 billion yuan ($16.19 billion) each year.
The MPS said that anti-narcotics officers uncovered 151,000 drug-related crimes and arrested 168,000 suspects across the country in 2013, up more than 20 percent year on year. Last December, police in south China's Guangdong Province raided villages producing drugs in Lufeng. They confiscated nearly 3 tons of drugs at the scene and smashed more than 200 drug-producing dens.
In the first five months of this year alone, courts around the country sentenced 39,762 criminals for drug-related offences, up 27.38 percent year on year, the Supreme People's Court announced before the International Day against Drug Abuse and Illicit Trafficking that fell on June 26.
A grave situation
In an interview with national broadcaster China Central Television, Liu revealed that China's drug population is actually well over 10 million, as the internationally accepted ratio between registered and unregistered drug users stands at 1 to 5.
China has also seen a rising number of teenage drug abuse cases, with more rural teenagers—who have been left in the countryside by their migrant parents working in cities—partaking of illicit substances, Liu said. He added that teenagers account for more than 70 percent of the country's drug users.
According to Liu, synthesized drugs such as methamphetamine and ecstasy have gained popularity among young users.
Statistics from the MPS show about 75.1 percent of new drug users in 2013 were using synthetic drugs and among them 75 percent were below the age of 35 with the youngest being only 8.
"Compared to drugs derived from plants, synthetic drugs are cheaper and faster-acting, which make them attractive to young people," said Du Xinzhong, a Zhejiang-based drug expert.
Du said that many young users he has been in contact with believe synthetic drugs have lower risks compared to other drugs. However, in fact, such drugs can be highly addictive and have severe health effects on users, Du warned.
"Synthetic drugs come in many varieties, which make it difficult for the authorities to crack down. Online sales also add difficulties to tracking drug trafficking," Du explained.
In recent years, the Internet has become a major channel for drug trade. From March 15 to early April, police across the country arrested more than 2,000 people on suspicion of using the Internet to engage in drug-related crimes, a 10-percent increase from the previous year, according to the MPS.
Sun Li, Vice President of the Beijing Higher People's Court, said that drug users are using mobile messaging services such as WeChat or QQ to contact each other, bargain on prices and arrange meet-ups. "All the transactions are conducted on the Internet, and traffickers usually transport the drugs through express mails," he said.