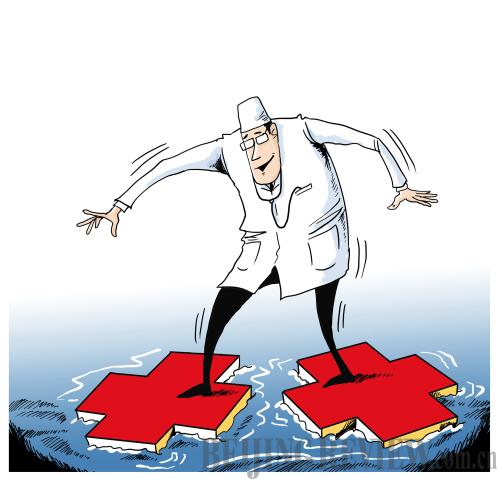 (CFP)
Interim step
Private hospitals need talented doctors to help them stand out from the crowd. A survey recently conducted by the Non-Public Hospital Management Branch of the Chinese Hospital Association on 510 private hospitals revealed that 97 percent wished to hire a larger number of well-trained professionals.
Nonetheless, high-caliber doctors tend to work in large public hospitals rather than in community health centers, rural hospitals or private hospitals. To encourage doctors to serve better urban communities and rural areas, in September 2009, the Ministry of Health, now known as the National Health and Family Planning Commission, implemented a regulation that allows doctors with a professional rank of associate professor or above to practice at multiple medical institutions. The policy was piloted in Beijing and several provinces such as Guangdong, Hainan, Sichuan and Jiangsu before being implemented nationwide since July 2011.
Although many doctors welcome the policy, few have applied to practice at multiple institutions, according to Zhu Hengpeng, Director of Center for Public Policy at the Institute of Economics of the Chinese Academy of Social Sciences (CASS). To practice at multiple institutions, a doctor is required to submit an application, get approval from the hospital he or she is employed with, and then register with the local health authority.
During the three years leading up to December 2012, only 170 doctors had applied to practice at multiple hospitals in Guangdong's Shenzhen, and only 36 doctors had obtained approval, according to the city's Health, Population and Family Planning Commission. Local public hospitals have about 6,100 doctors with an academic rank of associate professor or above, which would qualify them for the process.
Zhu said that a major obstacle that prevents doctors from applying to practice at more than one institution is that they are required to get approval from their current employers. "Medical skills are at the core of a hospital's quality, so few hospital presidents are willing to let other hospitals use their valuable resources," he noted.
On the other hand, in addition to paying doctors' salaries, medical insurance and pensions, hospitals also have a large say in doctor's promotions to higher academic ranks. As a result, few doctors dare to offend their employers and put their livelihood at risk by applying to practice at multiple institutions, Zhu added.
According to Caixin Magazine, Shenzhen had devised regulations to allow doctors to practice at multiple institutions without approval from their employers, but revoked the document at the end of July after having submitted it for approval to the Guangdong Provincial Department of Health. Caixin reported on July 26 that Cai Li, Director of the Health, Population and Family Planning Commission of Shenzhen, revealed that the commission is working on a new reform program and admitted that the previous one is not comprehensive enough.
Some experts question the merits of allowing doctors to practice in public institutions. It may not even be able to increase the supply of medical services or lower medical costs, at least in the short run, said Chen Qiulin, a health policy researcher with the Institute of Population and Labor Economics of the CASS.
Doctors qualified for practicing at more than one site are usually already working to their fullest capacity at their original hospitals, Chen said. To practice at other institutions, they have to either cut their practice hours at their original hospitals or work extra hours, according to him.
Zhang agreed that if doctors currently hired by public hospitals practice at multiple institutions, the quantity and quality of their work at their original hospitals might be affected. He suggests that independent medical practitioners, whose time is more flexible, are more suitable for practicing at multiple hospitals.
However, Zhang told Beijing-based The Economic Observer that in China, it is not realistic for all doctors to become independent medical practitioners. In future, some doctors will work in public medical institutions, whereas some doctors, including those who practice independently, will work for private medical institutions, he said.
When Zhang left his original position, he wished that he could contract both a private hospital and a public one, but he found that public hospitals currently cannot accept independent medical practitioners.
Zhang hopes that as private hospitals grow, they will prompt public hospitals to change their mindsets and services.
Email us at: wanghairong@bjreview.com